The RunnerBox and RiderBox Partner with University of North Carolina Asheville to Enhance the Entrepreneurial Ecosystem and Spur Company Growth
April 4, 2023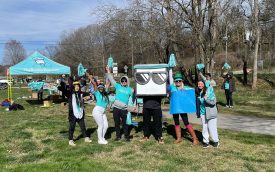 /ENDURANCE SPORTSWIRE/ – The RunnerBox & The RiderBox, which curates subscription and gift boxes for runners and cyclists, has been working with UNC Asheville business students since January as part of a Business Consulting Practicum. The class, taught by Associate Professor of Business, Dr. Susan Clark allows students to have real world experience with a local business before graduating and entering the full-time workforce.
"I designed the course to provide students with the opportunity to shadow an entrepreneurial team, in a collaborative setting, for an entire semester," said Clark. "This team-based apprenticeship approach to working on a real enterprise opens their experience to the world of business and entrepreneurship while building a strong bridge to the business and entrepreneurial community. This approach creates a win-win-win outcome: students gain knowledge of how to grow and run a business, local entrepreneurs are assisted with scaling their operations, and the jobs created are often filled by students once they graduate, which all contribute to the vibrancy of the regional economy."
The RunnerBox & The RiderBox, founded by former professional athletes Laura Jorgensen and Courteney Lowe is a two-time recipient of a Venture 15 award, which ranks the fastest growing startups in Asheville. Students in the Consulting Practicum helped them research and execute strategic business initiatives that will allow the company to scale to the next level of production, sales, and success.
The students will present their work with at 3 p.m. on Friday, April 28, at The Wedge Brewery at Foundation. The event will feature the students' presentation of their final deliverables to The RunnerBox & The RiderBox, followed by a happy hour. For more information, contact Susan Clark at smuntean@unca.edu.