The Race That Changed Running: The Book Behind Trail Running's Biggest Race
March 29, 2023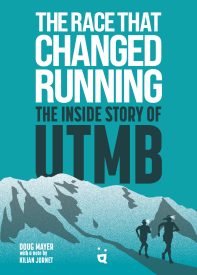 20 years of Ultra-Trail du Mont-Blanc (UTMB) from the eyes of Kilian Jornet, François D'Haene, Catherine and Michel Poletti and others
/ENDURANCE SPORTSWIRE/ – Helvetiq will publish The Race That Changed Running in English and French on June 13, 2023, two months before the 20th anniversary edition of the world's most important trail race. In 2023, more than 30,000 people from more than 100 countries have entered the lottery for starting places in UTMB Mont Blanc races.
Written by American journalist and ultramarathoner Doug Mayer, the book is an inside, unbiased look at the past, present and future of the UTMB.
The 171 km UTMB circles the Alps' highest mountain each August. For the book, Mayer was given access to the UTMB archives, and spoke to race founders Catherine and Michel Poletti, as well as more than 100 other runners and volunteers. The result is a book with more than 200 photos, maps and infographics that is the most comprehensive perspective into trail running's greatest race and its runners. It features exciting drama from 20 years of races, and delves into the controversy that surrounds UTMBs expansion into a mega event that attracts more than 100,000 people to Chamonix, France each summer. and tens of millions in front of their screens.
A look into the fastest growing segment of the world's most popular participation sport.
With firsthand accounts from decorated winners Kilian Jornet, François D'Haene, Katie Schide and many others.
A key resource for anyone hoping to qualify for UTMB races.
Beautiful photos of the world's most-loved trail running region in the French Alps.
About the author:
Doug Mayer is an author, journalist and founder of the trail running tour company, Run the Alps. He has co-authored two other books with Helvetiq, Trail Running Illustrated and Run the Alps Switzerland: 30 Must-Do Trail Runs.
Doug lives in Chamonix, France. He is a past producer of the Peabody-Award winning show Car Talk, and has run the UTMB race twice.
The Race That Changed Running
Author: Doug Mayer
ISBN: 9783039640140
Price: 24.99 USD
Release date: June 13, 2023
170 x 240 mm
208 pages
Paperback with flaps