The Antarctica Marathon & Half-Marathon Returns to King George Island
February 1, 2022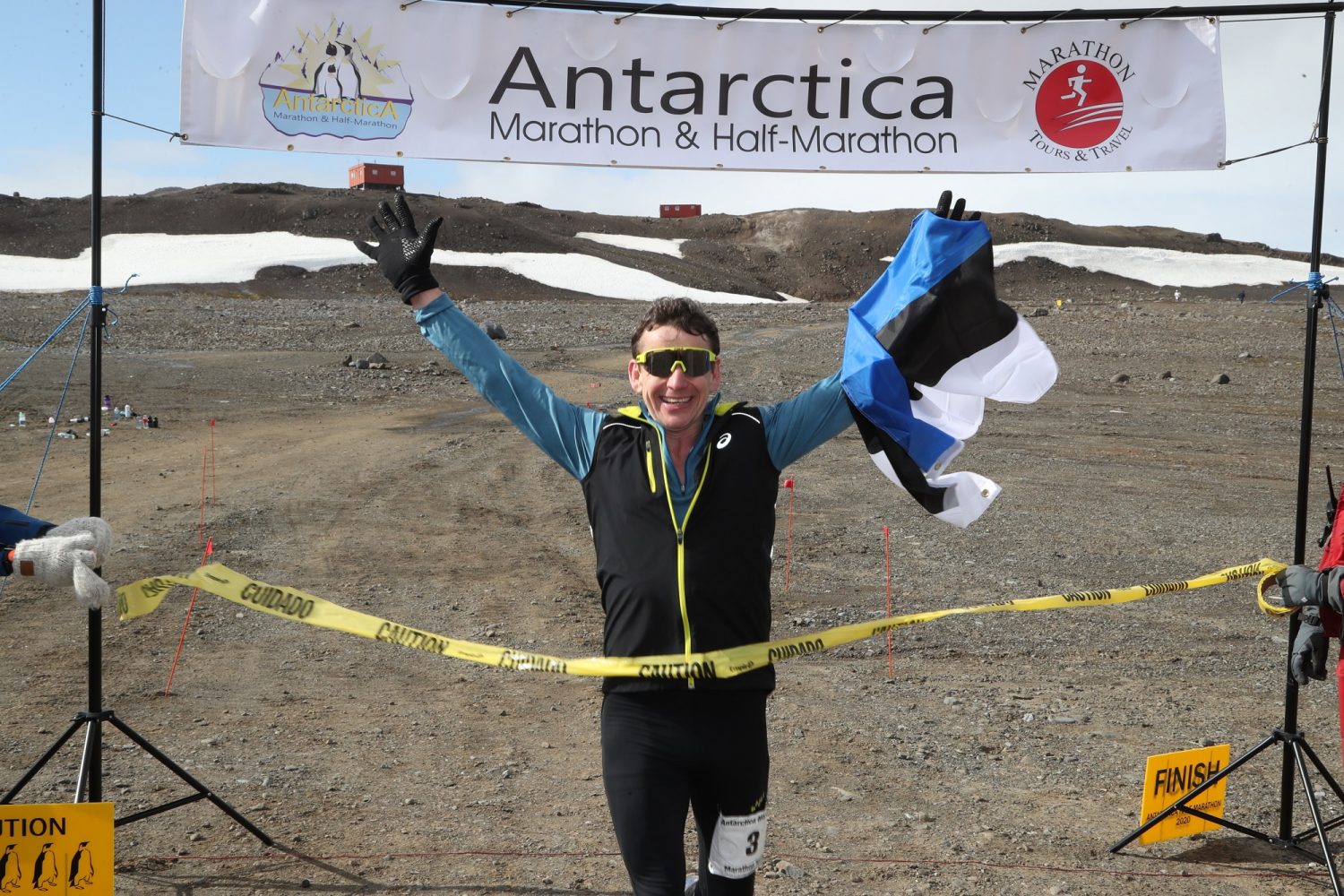 Marathon Tours & Travel holds its annual race after a two year wait due to pandemic
KING GEORGE ISLAND, ANTARCTICA, February 1, 2022 ENDURANCE SPORTSWIRE/ – The 21st running of the Antarctica Marathon & Half-Marathon took place on King George Island in the South Shetland Islands of Antarctica on Friday, January 28.  After deferring the event in 2020 and 2021, the Marathon Tours & Travel (MTT) organizing team produced a highly successful event despite a unique set of circumstances due to the ongoing global pandemic.
On race morning, runners awoke to a beautiful sunny day with temperatures steady at 38F (3C) and light winds for the race on King George Island. The marathon and half-marathon occurred in two waves split between the early morning and early afternoon with 138 runners from 14 countries.
Priit Jaagant of Estonia led from the start to garner the victory in a time of 3:56:28. Jaagant also claimed his Seven Continents Club Finisher Medal, one of 22 on this voyage.  He is the first Estonian to complete the goal of running a marathon on each of the seven continents.  Sandy Lam from Franklin, Indiana USA claimed the women's title with a time of 4:04:40 and securing third place overall.
Organized by Marathon Tours & Travel of Boston, MA this annual event fills it maximum field of 200 runners two years in advance.  For the first time in its history, the company invested in two back-to-back trips and races.  Once the first voyage arrives back in Ushuaia, Argentina after their 10-day excursion, the second voyage will board that same afternoon.
The first Antarctica event was held in 1995, which was 15 years after the founding of MTT by Thomas Gilligan who himself was a passionate runner and adventure traveler.  Today he is celebrating more than 42 years of helping runners achieve their goal of running on all seven continents.  Gilligan has served as the Antarctica Marathon & Half-Marathon race director since its inception.
Race results timed and produced by Sportstats of Toronto, Canada.
Results:
MARATHON 

Men

Name
Age
Country
Chip Time
Priit Jaagant
49
Estonia
3:56:28
Matthew Ranaletta
35
USA
03:59.3
Timothy Heitzwebel
64
USA
4:07:56

Women

Sandy Lam
26
USA
4:04:40
 Nancy Lin
31
USA
4:23:02
 Paula Berenquer Hancock
USA
4:38:54

HALF-MARATHON

Men

Paul Thompson
65
Scotland
1:43:21
Nalini Ambaty
53
USA
2:26:30
Kevin Hill
56
USA
2:40:49

Women

Eleonora Castelli
Great Britain
2:27:33
Ruth Simera
57
USA
2:41:50
Monica Roberts
55
USA
2:43:09
Complete results of the Antarctica Marathon & Half-Marathon: https://www.marathontours.com/about/news
About Marathon Tours & Travel
Founded in 1979, Marathon Tours & Travel (MTT) was the first global company to specialize in travel services specifically for runners. Located in Boston, the home of the world's oldest marathon, MTT is the official North American travel agency for many of the world's most popular running events including the BAA Boston Marathon, TCS London Marathon and many others.
In 1995 MTT created the Antarctica Marathon & Half-Marathon, which generated a new genre of adventure runs. The Antarctica events enabled runners to set and reach the once unthinkable goal of finishing a marathon or half-marathon on all seven continents. Pursuantly, the Seven Continents Club was formed to recognize these runners and to offer special VIP services to international globetrotting distance runners. More information on www.marathontours.com.
###