Team Drea Foundation Dazzles With New Documentary Trailer and Goal-Eclipsing Fundraising Results
July 15, 2022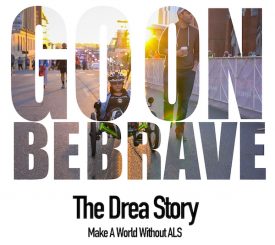 ALS nonprofit presses forward after Andrea Peet's record-breaking finish of 50 marathons in 50 states
RALEIGH, N.C. /ENDURANCE SPORTSWIRE/ – Following Andrea Peet's completion of her journey to become the first person with ALS to finish 50 marathons in 50 states, the Team Drea Foundation announced two milestones that will help carry the legacy of Peet's accomplishment forward. The organization shared that the 50for50 Challenge exceeded its $50,000 fundraising goal, generating over $100,000 in donations. They also debuted the brand new trailer for the documentary profiling Peet and her cross-country quest, Go On, Be Brave: The Drea Story, which is currently in production.
The foundation donated $50,000 each to its two key research beneficiaries: the ALS Therapy Development Institute and Duke University. Over 200 people from across the country participated in the 50for50 Challenge, donating personally and driving donations from their networks. The personal goals set by participants ranged from swimming 50 miles, to flossing for 50 days in a row, to writing 50 letters to loved ones.
"What I love the most about the ALS 50for50 Challenge is all the creative and personal ways people decided to be brave," said Peet, who co-founded the foundation with her husband in 2016. "When you commit to yourself, you discover that you are stronger, deeper, and more powerful than you realized. And that cannot help but bring about more good in our world and in ourselves."
During the campaign, the organization was given three of the largest gifts it has ever received from Malù Alvarez and the Alvarez Family, the Jim Heller 'End ALS' Memorial Fund, and the Morelli Family who is battling ALS.
The foundation will now turn its focus to a new campaign: finalizing the documentary focused on its founder. The trailer premiered during a virtual event on Thursday, where supporters from across the world gathered to watch the trailer, as well as hear commentary from Peet and filmmakers Miriam McSpadden and Brian Beckman.
McSpadden and Beckman collected footage of Peet for nearly all of her events both in person and via GoPro cameras onboard Andrea's person and trike. They were able to chronicle not only her races but also the deep connections and conversations she created along the way. They are now seeking $70,000 in post-production funding, after raising $30,000 in just three days after the trailer premiere. Their goal is to complete the film for distribution in 2023. Those interested in supporting their effort can visit www.GoOnBeBraveFilm.com to learn more.
To learn more about the Team Drea Foundation, visit their website. Follow Peet's journey on Instagram, Facebook, and Twitter.
About The Team Drea Foundation
The Team Drea Foundation is a 501(c)(3) that supports bold, innovative research to find a cure or effective treatment for ALS. We see raising awareness about this devastating disease as an opportunity to inspire people to live bravely, love joyfully, and appreciate the gift of life. Founded in October 2016 by Andrea Lytle Peet and her husband David Peet, the foundation supports two organizations that are passionately dedicated to research: ALS Therapy Development Institute and Duke University. For more information or to donate, visit www.teamdrea.org.
###
Media Contact:
Meg Treat, APR
805-766-1500
meg@treatpublicrelations.com