Supersapiens Proudly Continuing Mallorca 312 Partnership
February 21, 2023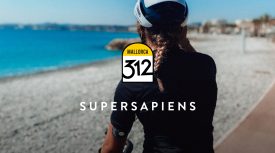 Supersapiens, the world's first glucose management system for athletes powered by Abbott Libre Sense Glucose Sport Biosensor, and Mallorca 312 announced they'll extend their partnership for the 14th edition of the Mallorca 312 Sportive.
ATLANTA, 21 February 2023 /ENDURANCE SPORTSWIRE/ – The Spanish event features stunning roads and some of the toughest climbs on the island, meaning glucose management is essential for all participants.
"The synergies between Supersapiens as a product and Mallorca 312 as an event are clear and evident. Add in Phil's cycling passion and the dedication from the entire Supersapiens team and it makes this collaboration very special for us," said Mallorca 312 CEO and Founder Xisco Lliteras. "Mallorca 312 is a challenge for all our participants. The distance and duration they endure makes nutrition and therefore glucose essential to properly manage during the challenge. Supersapiens is the perfect tool to help them achieve the best performance and make the Mallorca 312 a top experience."
Supersapiens is the global exclusive distributor of the Abbott Libre Sense Glucose Sport Biosensor, which helps athletes visualize the connection between their glucose levels and perceived energy levels and guides them on ways to adjust behaviors to improve recovery and performance. Mallorca 312 takes place on Saturday April 29 in Platja de Muro.
"Supersapiens is eager to continue partnering with Mallorca 312 because to have a successful race across the extreme elevation changes and distance comes down to properly fueling. Supersapiens is a glucose management system that helps athletes optimize performance – both during training leading up to Mallorca 312 and during the actual event – and recovery," said Supersapiens CEO and Founder Phil Southerland. "Supersapiens helps riders discover stable and sustainable fuel sources, allowing them to effectively glucose loading leading up to the big day in April. By having real-time glucose visibility, athletes can validate their nutrition choices and dial in their fueling strategy."
The Supersapiens ecosystem consists of the Supersapiens app, Supersapiens Energy Band, and Supersapiens Data Dashboard. In October, Supersapiens announced a groundbreaking integration with Wahoo's New ELEMNT ROAM and BOLT that allows for real-time glucose visibility where the Abbott Libre Sense Glucose Sport Biosensor connects directly with these devices, no longer requiring a phone to serve as the bridge. Supersapiens also integrates with select Garmin devices, Nolio app, Apple Health, and more.
"I am incredibly proud to work with Xisco and to get to call the entire Mallorca 312 team partners. This event truly is a bucket list event for anyone that rides a bike and enjoys a challenge. The roads are beautiful and the participants are noble. This has served as my yearly highlight on the bike now for two years running," said Southerland.
The Supersapiens system powered by Abbott's Libre Sense Glucose Sport Biosensor is now available in Austria, France, Germany, Ireland, Italy, Luxembourg, Switzerland, and the United Kingdom. Learn more about the full line of Supersapiens products and purchase Abbott's biosensor at www.supersapiens.com.
About Supersapiens
Supersapiens is aiming to be the most influential sports brand of the decade. They develop innovative insights around glucose that aim to unlock better performance and recovery by driving positive behavior changes.
Abbott's Libre Sense Glucose Sport Biosensor is intended for athletes to measure their glucose levels. When used with a compatible product, the biosensor allows athletes to correlate their glucose levels and their athletic performance.
The Supersapiens system including Abbott's Libre Sense Glucose Sport Biosensor is not intended for medical use and is not intended for use in screening, diagnosis, treatment, cure, mitigation, prevention, or monitoring of diseases, including diabetes.
The Supersapiens system including Abbott's Libre Sense Glucose Sport Biosensor is not for sale in the U.S and is only available in select countries. For a full list of references and FAQs, please visit our Education Hub and Knowledge Base.