Super Sunday: two GFNY races on same day
August 24, 2023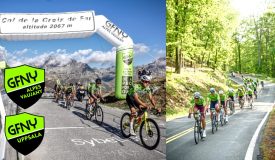 Inaugural edition of GFNY Sweden Uppsala and 4th edition of GFNY France Alpes Vaujany will take place on Sunday, August 27
/EMDIRANCE SPORTSWIRE/ – GFNY Sweden Uppsala
The inaugural edition of GFNY Uppsala starts from Ulva Kvarn and offers racers a 133.8 km long course with 1592m of climbing. The course will take riders along rolling hills of glorious Uppsala countryside. There will also be hard packed unpaved road segments which will add an interesting challenge to competitors.
Website: uppsala.gfny.com
GFNY France Alpes Vaujany
The course of the 4th GFNY Alpes Vaujany is 119.6km long with an elevation gain of 4023m across two major mountain passes and a mountain finish in Vaujany. The long course includes the demanding 25 km climb up Col de la Croix de Fer, which stands at an altitude of 2,067 meters. After the descent down into the Maurienne valley, the second giant awaits, Col du Glandon (1,924 meters). After descending from there, the race finishes back where it started with the steep 5 km climb to Vaujany.
Website: vaujany.gfny.com
About GFNY Global Endurance Sports Series
GFNY Global Endurance Sports Series is a sports event company with three decades of experience in racing, planning and organizing events. The global endurance sports brand hosts multiple events throughout the year around the world on five continents.
Working with partners around the world to deliver a first-class experience, GFNY Global Endurance Sports Series puts its athletes first.
Cycling
30-plus events held around the world. View the latest calendar here
Riders get to BE A PRO FOR A DAY ® by competing against others, themselves and the clock in a personal endurance challenge.
Top 10% (20% at regional championships) of finishers in each age group qualify for the Elite Qualifier Corral at every GFNY World event.
GFNY World Championship NYC
The 12th annual GFNY World Championship New York will be held on May 19, 2024. The race features the world's most international peloton with riders from over 90 countries. Athletes take on a challenging route to compete against each other, the clock and themselves in a personal endurance challenge.
The official GFNY website is: www.gfny.com.
Further Material for Media Use
Official GFNY Uppsala video: here
Official GFNY Alpes Vaujany video: here
GFNY Press Images: here
GFNY Results: here
GFNY World calendar graphic: here
Previous GFNY press releases: here
Media Contact
Gran Fondo New York Inc.
Uli Fluhme, uli@gfny.com
Caroline Lindsay, caroline@gfny.com