Super League Triathlon Expands in the USA and Grows Mass Participation
February 16, 2023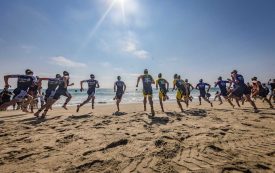 /ENDURANCE SPORTSWIRE/ – Super League Triathlon (SLT) has continued its rapid expansion plans by acquiring the iconic New York and Chicago Triathlons.
The acquisition of two additional major city triathlons provides SLT with a stable of mass participation events in the USA, which also includes Malibu Triathlon. SLT acquired the New York and Chicago events from Life Time, Inc., which will continue to produce the two events this year. Terms were not disclosed.
SLT now owns three of the longest-running and largest participation triathlons in the country and has the perfect platform to achieve its ambition of reviving short course racing in the USA.
Super League Triathlon is the world's premier swim-bike-run Series, pitching the very best athletes against each other in quick and exciting race formats in fantastic destinations across the globe. It features both the Arena Games Triathlon and Championship Series.
It has enjoyed huge growth since launching in 2017, with more than 50 million unique broadcast viewers over the course of its 2022 Arena Games Triathlon and Championship Series races as well as a digital audience of more than 1 million followers.
SLT CEO and Co-Founder, Michael D'hulst, said: "I am very excited to be able to announce the acquisition of two fantastic events with the New York and Chicago triathlons. These are races with a rich history in our sport and in prime locations in major cities. It is an honour to now be the custodian of these brands.
"This move underlines Super League's transition as we grow from being more than a right's holder in elite sport to also delivering mass participation events, and shows our commitment to make short course racing cool again in the US via a strategy that engages and excites participants."
​​SLT Chairman and Co-Founder, Leonid Boguslavsky, added: "A platform that brings together these three huge events while growing the footprint of our professional events in the US and expanding our media presence is a truly unique proposition. We are formulating exciting plans for the future and look forward to being able to announce these in due course."
The Arena Games Triathlon powered by Zwift 2023 World Championship Series gets underway in Montreal, Canada, on Saturday, February 25, before visits to Switzerland and London. Tickets for the Montreal event are available via Ticketmaster.