Super League Triathlon Announces Humango As Official Training Platform
April 14, 2022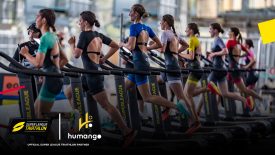 Super League Triathlon joins forces with state-of-the-art AI training platform Humango
/ENDURANCE SPORTSWIRE/ Super League Triathlon (SLT) can today announce that state-of-the-art training platform Humango will become the Official Training Platform partner of SLT in 2022.
Humango is revolutionising training via their unique platform which is designed to improve athletic motivation and performance for athletes of all levels. Whether you're an elite or recreational athlete, or simply enjoy the effect that endurance sports bring to your life, we can all benefit from made-to-measure adaptive training plans.
Its state-of-the-art technology uses the latest in artificial intelligence to analyse your data holistically in order to optimise your long-term potential. It will help you train more efficiently than ever before and deliver Hugo, the AI coaching assistant that understands your goals and changing commitments to continuously build an adaptive training plan with regular guidance. This digital-first partnership will see Humango support and inform training content on SLT platforms.
Super League Triathlon has changed the face of professional short course racing via its innovative Championship Series events as well as the Arena Games Triathlon powered by Zwift, which kicked-off in Munich and will this year crown the sport's first ever esports World Champions.
Super League Triathlon's Chief Commercial Officer, Martin Cawte, said: "This partnership is the coming together of two companies who are at the cutting edge of their field. Super League Triathlon is changing the way people see our sport, while Humango are doing the same for training with their state of the art AI platform. There are many synergies between us and I look forward to working together and driving further innovation."
Humango's Chief Commercial Officer, Gretell Otano, said: "Humango's partnership with SLT is the beginning of our journey to disrupt the market for the benefit of athletes of all levels. SLT uses a combination of real life and virtual racing to captivate an audience of athletes and fans alike, inspiring them to be their best self; Humango uses AI technology and the latest in sports science to support their journey. Together we'll bring engaging training content and a superior experience to fans and athletes. I'm confident that our partnership with SLT will bring great value to our users."
About Super League Triathlon
Super League Triathlon (SLT) is the world's premier swim-bike-run Series, pitching the very best athletes against each other in quick and exciting race formats in fantastic destinations across the globe.
The Championship Series takes place from August-November with the best triathletes on the planet doing battle over game-changing formats which are redefining the sport for a modern audience.
Super League's Arena Games Triathlon is a dynamic new esports format which blends in real life and virtual racing to deliver an immersive viewing experience via a unique partnership with Zwift. It will crown official triathlon esports World Champions thanks to its ground-breaking partnership with World Triathlon.
For more information visit superleaguetriathlon.com
About Humango
Humango, founded in 2019, is the world's first training platform that adapts based on athletes' goals, sport preference, physiology,  their ever-changing availability, and data-driven fatigue model estimation as well as actual performance.
Designed, built, and tested by athletes, elite coaches, and artificial intelligence experts, Humango generates truly individualized plans that continually evolve to keep athletes on the optimal path to achieving their goals. The goal-specific strategy allows for automated AI plans for self-coached athletes in addition to coach-customizable plans for coached athletes.
For more information visit humango.ai