Summit Cycling Adventures
July 11, 2023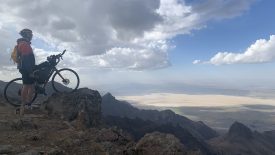 Four New Guided Fully Supported Tour Routes in Wild Oregon
/ENDURANCE SPORTSWIRE/ – Summit Cycling Adventures has added four new fully supported, professionally guided bike tours through Oregon's varied landscapes, from forests to high deserts, coasts to mountains, oceans to hot springs.
Tours cover mixed terrain, blending road and gravel to take riders off the beaten path and explore backroads, nature reserves, and hidden "local knowledge" delights, highlighting the natural environment.
"I wanted to share my home state in a way that feels like exploring," says founder and ride leader Marc McConnell. "Epic rides are mixed with gorgeous sights and fun side trips that offer a more memorable experience, challenging your body and refreshing your spirit."
Where many cycling tours are spent just getting from point A to B with little time to enjoy or explore the points in between, Summit Cycling Adventures intentionally integrates side excursions into the day's journey. Hot springs, waterfalls, short hikes amongst the Redwood Giants, lava field lakes, and of course, coffee stops and breweries!
"Riding is about more than just pacelining along the road," McConnell adds. "I've raced across the US twice and toured thousands of miles through Europe, and the best part is always just the experience of being out in nature, on a bike."
"I created Summit Cycling Adventures to help adventurous riders enjoy that same experience without having to figure out all the logistics, routing, meals, and gear transport for themselves. Now you can just show up and have fun!"
Highlights include famous landmarks like Crater Lake National Park, Cascade Mountains, Grove of the Titans, Steen's Summit, Alvord Desert Hot Springs, North Umpqua River, and many more!
Tours ranging from 4-5 days are offered throughout Summer and Fall for up to six riders per tour. All meals and accommodations are provided, along with a fully stocked sag trailer to transport you and your gear. McConnell is a NOLS Wilderness First Responder, and the support vehicles are well-equipped with everything to keep you and your bike running.
Four distinct routes offer something for everyone, from forest to desert, mountains to ocean, and everything in between, with plenty of snack stops and complete GPS routes provided for each day's ride.
All tours are e-bike friendly and offer full charging support for your e-bike batteries and all of your supplementary electronic devices like GPS, headlamps, bike lights, and cell phones.
Limited spots remain for 2023, check the website for pricing, dates, and availability. Visit SummitBikeTours.com for more details and to book your next amazing cycling adventure.
###
CONTACT: Marc McConnell // marc@summitbiketours.com // 541.953.4790
IMAGES: Access our PRESS KIT for photos & logos