Strength Running Celebrates 5 Million Podcast Downloads
April 20, 2022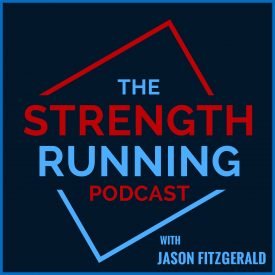 Endurance Running Podcast Helps Runners Train Smarter
DENVER, CO (April 19, 2022) /ENDURANCE SPORTSWIRE/ – Strength Running is excited to announce that it has achieved a key milestone: the Strength Running Podcast has been downloaded more than 5 million times.
"The growth of the podcast is thanks to our listeners, who keep showing up every week for practical training advice, said Strength Running Head Coach and podcast host Jason Fitzgerald. "Since the first episode, our listenership has more than quadrupled and we're almost always in the top 3 running podcasts in the United States. Having a 4.9 average rating in Apple Music is incredibly rewarding."
Strength Running is an award-winning blog, a top-ranked podcast recommended by Runner's World and PodiumRunner, a growing YouTube channel, and a coaching service that helps runners set monster Personal Bests. Founder Jason Fitzgerald is a USATF-certified coach and 2:39 marathoner.
"The point of the podcast is to help results-oriented runners improve. We do that by having a variety of guests from physical therapists, psychologists, elite running coaches, registered dietitians, and strength experts," said Fitzgerald. "My goal as the host is to surround listeners with the experts that professional runners have access to. This gives them a competitive advantage as they learn more about the sport."
Runners of all ages, abilities, and goals will find actionable training advice in the Strength Running Podcast to help them accomplish their loftiest running aspirations.
Stay up to date on iTunes, Spotify, or Stitcher.
Subscribe to the Strength Running newsletter for even more training guidance, workouts, and strength routines.