St. Jude Rock 'n' Roll Running Series Washington Welcomes Back Over 9,000 Registered Participants to The Pacific Northwest for The Ultimate Foot Tour of Bellevue
September 4, 2022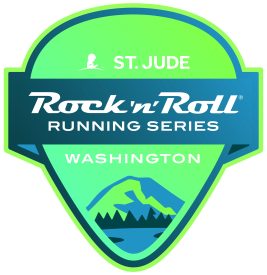 Roosevelt Cook (Hesperia, Calif.) and Becca Kawaoka (Auburn, Wash.) victorious in St. Jude Rock 'n' Roll Running Series Washington Half Marathon
BELLEVUE, Wash. (September 4, 2022) /ENDURANCE SPORTSWIRE/ – The Rock 'n' Roll Running Series made its return to the Pacific Northwest for the first time since 2019 as the St. Jude Rock 'n' Roll® Running Series Washington took to the streets of Bellevue this weekend. Known for Bringing the Fun to the Run®, the St. Jude Rock 'n' Roll Running Series Washington event weekend saw over 9,000 registered runners and featured 5K and KiDS ROCK races on Saturday along with a half marathon on Sunday. The Rock 'n' Roll Running Series, a best-in-class running series provided participants a unique running tour of Bellevue, Wash. and the surrounding areas.
The half marathon race saw Roosevelt Cook, 42, of Hesperia, Calif. pull out the win in the men's competition with a time of 1:10:00, while the women's title went to Becca Kawaoka, 31, of Auburn, Wash. with a time of 1:19:24.
A middle school physical education teacher, Cook was happy to finally claim victory at a Rock 'n' Roll Running Series race in the Pacific Northwest.
"I loved being up here in Bellevue, it was a beautiful morning and the course was very nice," said Cook. "Rock 'n' Roll always puts on a nice event with the bands out there, I like cheering along for the bands as they push us forward. I'm very happy to finally win one up in Washington after coming in second and third a lot. I just knew I had to win one in Washington."
A full-time triathlete, Kawaoka saw an opportunity to get in a race in her home state that she knew would push her to compete as she continues her preparation for the 2022 Intermountain Healthcare IRONMAN 70.3 World Championship presented by Utah Sports Commission in October.
"It was a challenging course, but I enjoy that," said Kawaoka. "It wasn't about setting a personal best time, it was about having a personal best experience. For me, this will definitely go down in the memory books."
In the men's half marathon, Matthew Fox, 35, of Southport, Queensland, Australia currently living in Colorado followed in second with a time of 1:10:05 while Robby Webster, 32, of Tacoma, Wash. came in close behind and rounded out the podium in third with a time of 1:10:57.
Finishing just five seconds behind Cook, Fox enjoyed the experience as they battled for the lead throughout the course.
"It was good fun, we were playing a little game of cat and mouse with who was in front," said Fox. "We had a bit of a chat and kept encouraging each other. The course was nice and very scenic and the crowd was much more than I was expecting."
A Washington native, Webster was happy to see the local running community get an opportunity to showcase what makes the area such a destination for runners.
"I have a little bit of bias since I'm from here, but I thought it was a fantastic course," said Webster. "It was fun and interesting the whole time. I was thinking to myself this morning how lucky I am to have a race like this in my backyard and it was an amazing atmosphere."
In the women's half marathon, Ava Sorell, 32, of Los Angeles, Calif. crossed the finish line in second with a time of 1:21:44 and Kira Belzer, 31, of Puyallup, Wash. completed the top three with a time of 1:22:01.
Taking on the hills throughout the course, Sorell found solace in the downhill sections along the way to her second-place finish.
"It was very hilly, but I looked at the course profile beforehand," said Sorell. "My favorite part of the course was about eight of us all balled up before the downhill and we were all chatting and just having fun. It was a great feeling of community."
The race had extra meaning for Belzer as she was supported by friends and family, including her 15-month old daughter.
"There was a ton of people out there supporting and they made it a lot of fun," said Belzer. "It was almost a four minute PR for me. My daughter is 15 months and she was able to be out on the course to see me between mile 7 and 8."
It was a landmark race for Leah Reid, 44, of Vancouver, British Columbia as she took part in her 100th Rock 'n' Roll Running Series race.
"I thought it was a beautiful course," said Reid. "I've been to Seattle a lot, but never to Bellevue. Beautiful tree-lined streets and perfect weather, you couldn't ask for anything more."
St. Jude Rock 'n' Roll Running Series Washington returned with a gorgeous urban tour of the city of Bellevue with live music and entertainment along the route showcasing the Most Physically Active Small City in the United States. Starting and ending at Bellevue Downtown Park, participants ran through Crossroads and Lake Hills before returning to downtown Bellevue and being greeted by cheering family, friends, and spectators. Several local bands, including the Nick Mardon Trio, Navy Band Northwest, Flashback Nation, and many more performed live on band stages along the route before Nevermind took the stage in front of a packed Bellevue Downtown Park as the Encore Entertainment presented by Amazon Music.
Amongst the thousands participating on Saturday and Sunday in Bellevue, select participants ran Rock 'n' Roll Washington as St. Jude Heroes® for the mission of St. Jude Children's Research Hospital: Finding cures. Saving children.®
Upcoming Rock 'n' Roll Running Series Events:
Rock 'n' Roll Running Series is scheduled to continue October 1 & 2 with the Publix Rock 'n' Roll Running Series Clearwater in Clearwater, Florida before heading to San Jose, California for the United Airlines Rock 'n' Roll Running Series San Jose on October 8 & 9. To see the full schedule of Rock 'n' Roll Running Series events, visit www.runrocknroll.com/all-events.
For more information on the Rock 'n' Roll Running Series, please visit RunRocknRoll.com. Rock 'n' Roll Running Series media inquiries may be directed to press@runrocknroll.com.
###
About St. Jude Children's Research Hospital
St. Jude Children's Research Hospital® is leading the way the world understands, treats and defeats childhood cancer and other life-threatening diseases. Its purpose is clear: Finding cures. Saving children.® It is the only National Cancer Institute-designated Comprehensive Cancer Center devoted solely to children. Treatments invented at St. Jude have helped push the overall childhood cancer survival rate from 20% to more than 80% since the hospital opened in 1962. St. Jude won't stop until no child dies from cancer. St. Jude shares the breakthroughs it makes, and every child saved at St. Jude means doctors and scientists worldwide can use that knowledge to save thousands more children. Because of generous donors, families never receive a bill from St. Jude for treatment, travel, housing or food, so they can focus on helping their child live. Visit St. Jude Inspire to discover powerful St. Jude stories of hope, strength, love and kindness. Join the St. Jude mission by visiting stjude.org, liking St. Jude on Facebook, following St. Jude on Twitter, Instagram, LinkedIn and TikTok, and subscribing to its YouTube channel.
About Rock 'n' Roll Running Series
The Rock 'n' Roll® Running Series is the world's largest running series taking part in destination locations around the world every year. Established in 1998, the Rock 'n' Roll Running Series simple idea of making running fun has transformed both the U.S. and global running landscape by infusing the course with live bands, cheer teams, and entertaining water stations, creating a block-party atmosphere for participants and spectators alike. Focused on running, music and community, race weekend kicks off with a free Health & Fitness Expo showcasing the latest in running gear, sports apparel, health and nutritional information and much more. Events culminate with an Encore Entertainment experience featuring eclectic musical artists from a variety of genres. With a goal of helping participants find the Beat in Their Feet™, the Rock 'n' Roll Running Series has also featured some of the biggest names in music, with past performances including the likes of Macklemore & Ryan Lewis, O.A.R., Aloe Blacc, Pitbull, Flo Rida, The Band Perry, Fitz and the Tantrums, the Goo Goo Dolls, Bret Michaels, Kesha, The Revivalists, Hunter Hayes, Capital Cities, and Matt Nathanson. Further information about the Rock 'n' Roll Running Series can be found online at www.RunRocknRoll.com and follow @RunRocknRoll on all social platforms.
About The IRONMAN Group
The IRONMAN Group operates a global portfolio of events that includes the IRONMAN® Triathlon Series, the IRONMAN® 70.3® Triathlon Series, the IRONMAN® Virtual Racing™ (VR™) Series, 5150™ Triathlon Series, the Rock 'n' Roll® Running Series, the Rock 'n' Roll Virtual Running™ Series, IRONKIDS®, World Triathlon Championship Series, premier running events including the Standard Chartered Singapore Marathon™ and City2Surf®, UTMB® World Series events including Tarawera Ultra and Ultra-Trail Australia™, Epic Series™ mountain bike races including the Absa Cape Epic®, road cycling events including Haute Route®, and other multisport races. The IRONMAN Group is the largest operator of mass participation sports in the world and provides more than a million participants annually the benefits of endurance sports through the company's vast offerings. Catering to the full athlete experience, the company portfolio also includes FulGaz® virtual cycling, the most realistic indoor riding experience connected fitness application aimed at preparing athletes for real-world events. Since the inception of the iconic IRONMAN® brand and its first event in 1978, athletes have proven that ANYTHING IS POSSIBLE® by crossing finish lines around the world. Beginning as a single race, The IRONMAN Group has grown to become a global sensation with hundreds of events across 55+ countries. The IRONMAN Group is owned by Advance, a private, family-owned business. For more information, visit www.ironman.com/about-ironman-group.
About Advance
Advance is a private, family-held business that owns and invests in companies across media, entertainment, technology, communications, education and other promising growth sectors. Our mission is to build the value of our companies over the long-term by fostering growth and innovation. Advance's portfolio includes Condé Nast, Advance Local, Stage Entertainment, The IRONMAN Group, American City Business Journals, Leaders Group, Turnitin, 1010data and Pop. Together these operating companies employ more than 17,000 people in 29 countries. Advance is also among the largest shareholders in Charter Communications, Warner Bros. Discovery and Reddit. For more information visit www.advance.com.