Sports And Hollywood Stars Join Forces to Crush Cancer at The 11th Annual Tour De Pier
May 9, 2023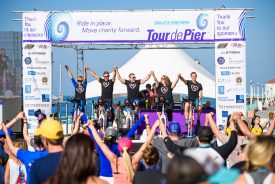 Michael Davis, Alexi Lalas, Peyton Elizabeth Lee, Matt Leinart, and Rob Stone are among the celebrities taking center stage to spin for a cancer cure at the award-winning outdoor stationary cycling fundraiser
LOS ANGELES, Calif., May 9, 2023 – The 11th Annual Tour de Pier, a unique outdoor stationary cycling fundraiser is pleased to announce its star-studded lineup. The award-winning fitness fundraiser for Outstanding Special Event welcomes sports and Hollywood stars in helping create awareness about advancing cancer research. Celebrities scheduled to appear are: Mike Bohn (USC Athletic Director); Michael Davis (Los Angeles Chargers); Alexi Lalas (Fox Sports Commentator and U.S. Soccer Legend); Peyton Elizabeth Lee (actress); Matt Leinart (former NFL player); and John Thorrington (Co-President, LA Football Club). Hosted by Fox Sports Commentator Rob Stone, the Tour de Pier will be held at the iconic Manhattan Beach Pier & Strand on Sunday, May 21 from 8:30 a.m. – 1:30 p.m.
"We are honored to welcome the return of our celebrity friends while embracing new friends to the Tour de Pier family," said Heath Gregory, Co-Founder of the Tour de Pier. "It is with their unending support and unwavering commitment to finding a cancer cure that the Tour de Pier continues to thrive. Their endurance and passion for fighting against this disease and helping save lives are admirable, and we are excited to have them join us."
The area's best instructors and celebrity guests will spin thousands of riders on hundreds of stationary bikes through five 50-minute sessions with energizing music and lots of live excitement while overlooking the breathtaking Pacific Ocean. In addition to stationary cycling, there will be a free Health & Fitness Expo, an interactive health and fitness booth, and a Cardio Kids Zone with tot-sized stationary bikes, games, moon bounces and more. For more than a decade, the Tour de Pier has been filled with tears, laughter, and hope, empowering cyclists to act by pedaling for a cancer cure.
A highlight of the Tour de Pier will be the highly anticipated, encore flyover performance by the Tiger Squadron. The Southern California's premier precision formation flying team will be soaring through the skies over the Manhattan Beach Pier, remembering those who lost their battle with cancer as well as saluting the fundraiser and its warriors in honoring Tour de Pier's legacy to service.
The Tour de Pier benefits three nonprofit cancer organizations dedicated to helping save lives and providing support services for patients and families: Hirshberg Foundation for Pancreatic Cancer Research; Cancer Support Community South Bay and the Uncle Kory Foundation for Brain Cancer Research. Since debuting in 2013, the Tour de Pier has raised more than $10.5 million dollars for cancer charities.
The 11th Annual Tour de Pier will be held at the Manhattan Beach Pier & Strand, 2 Manhattan Beach Blvd., Manhattan Beach, California 90266.
ABOUT THE TOUR DE PIER:
In March 2014, the City of Manhattan Beach Parks & Recreation Department won a prestigious award for Outstanding Special Event for the Tour De Pier, presented by the State of California Association of Parks and Recreation Commissioners. Competing against other cities throughout California, Tour de Pier was recognized as an event that significantly contributes to the overall betterment of the community. Learn more at www.tourdepier.com.
# # #
FOLLOW US ON SOCIAL MEDIA:
Facebook: @TourdePier
Twitter: @TourdePier
Instagram: @TourdePier
MEDIA CONTACT:
Donald Wilson
(310) 428-4730