Speedland Introduces the SL:HSV Bringing Improved Performance to Trail Runners
March 16, 2022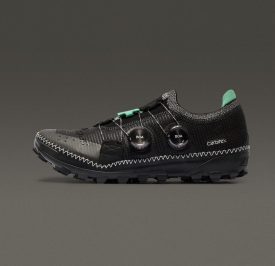 Liz Canty Collaboration
Portland, Oregon, March 16, 2022 /ENDURANCE SPORTSWIRE/ – Developed by industry experts Dave Dombrow and Kevin Fallon and tested by elite trail running athletes, Speedland, a revolutionary equipment company for trail runners, launches its second footwear style with the SL:HSV.
In collaboration with elite ultrarunner and Speedland athlete Liz Canty, the SL:HSV– named for  Canty's long-time home of Huntsville, Alabama– is a refined version of the original Speedland trail shoe, the SL:PDX.
The SL:HSV is now available in limited quantities and features new additions specific to Canty's preferences on technical terrain. This includes a PerformFitTM Wrap powered by the BOA® Fit System, now with premium Li2 anodized aluminum dials, providing micro-adjustable, dual-directional action for optimal fit, an improved Michelin outsole rubber compound (OCX 3) for improved traction on wet surfaces, and all-new heel and toe loop integration for gaiter compatibility. The SL:HSV has the same 5mm heel-to-toe offset (28mm in the heel, 23mm in the forefoot) and Pebax SCF midsole with removable Carbitex carbon fiber plate.
Regarding the design and development of the SL:HSV, Canty said, "Not only are the graphics inspired by my tattoos, and the name from my long-time running home, but the new features are an integral part of my years of running experience. Incorporating performance and technology, the SL:HSV now has gaiter attachments to assist keep out dirt and debris, while the new outsole compound grips even better on wet rocks and roots.
Liz Canty is an elite ultrarunner who built her ultrarunning resume on the Southeast trails around Huntsville, Alabama. Her running resume includes top-5 finishes in Big's Backyard Ultra, Barkley Fall Classic (Winner), Pinhoti 100 (Winner), Georgia Death Race, and Mountain Mist 50K (Winner). Liz also holds the women's fastest known time (FKT) for the Smokies Challenge Adventure RUN (SCAR) and is a three-peat winner of the Mountain Mist 50K in Huntsville.
Speedland footwear has a direct charitable tie back 
to its athletes, as 10% of all profits from the shoe are directed towards its partners' respected outdoor and trail foundations. From a sustainability standpoint, the SL:HSV is designed with simple deconstruction in mind – at the end of the shoe's lifespan, each layer can easily be separated and distributed to its specific recycling facility.
The SL:HSV is available for pre-order on March 16, 2022 for $375 to customers within the United States at www.runspeedland.com until sold out. 
About Speedland:
Designed by footwear experts and athletes, Speedland is an industry-leading trail running brand with lasting quality and hyper performance all terrain footwear. For more information visit www.runspeedland.com
###