Top Event Management and Timing Companies in the United States come together to form Soteria
February 19, 2022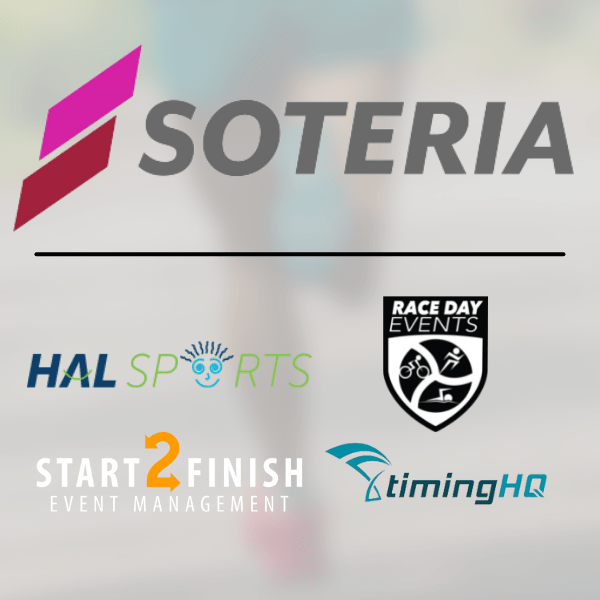 DENVER, CO; FITCHBURG, WI; MEMPHIS, TN; CHARLOTTE, NC; and SAN DIEGO, CA, February 19, 2022 /ENDURANCE SPORTSWIRE/ – HAL Sports, Race Day Events, Start 2 Finish and TimingHQ have come together to create Soteria, an event management support company and MyLaps timing technologies largest Bibtag Company in the western hemisphere. Soteria, centrally located and headquartered out of Denver with offices across the United States, will provide unparalleled services in all areas of event operations.
"This has been nearly two years in the making, and I am excited to see it come together. With offices strategically located across the country in all time zones, Soteria has the equipment and staff to support the country's largest events (simultaneously if needed)," said Soteria Managing Partner Michael Coleman. "Bringing the companies together now gives us expertise in every aspect to support the event industry. From safety plans for health mitigation and crisis management, registration consulting, and fulfillment to timing, barricades, race day apps, shirts, and medals, we can support every aspect of an event in a cost-effective way."
"We are proud to have achieved what we have individually as companies but are even more excited about what the future holds for Soteria and our industry as we continue to come out of this pandemic into a new "normal". With large warehouses across the country, we are poised to aid in fulfillment and specialized operations to those events that maintain virtual or hybrid options moving forward in economical ways, as well as in-person events. We have extensive expertise with developing and creating safety protocols as our team members have been part of various task forces with the country's most cited states of how to create events safely during the pandemic and other safety mitigation needs," states Lonnie Somers, Co-Managing Partner.
To find out more information and offerings of Soteria, Ltd contact us at info@soteriaevents.com.
Additional Information
Services provided include Timing, Fencing, Coning, T-shirts, Medals, Bibs, Fulfillment, Course and Event Safety Consulting, Registration Management and Consulting and much more.
About HAL Sports
HAL Sports (www.halsports.net), which stands for Health Active Living Sports out of Denver, Colorado is the largest event production, timing, crisis management planning, announcing/hosting, and event consultation company in the Rocky Mountain region. The participant experience is at the core of what HAL Sports delivers while providing for efficient, organized, and safely executed events. HAL Sports has worked across the United States and internationally while also being recognized as a leader in handling complex events, including stair climbs.
About Race Day Events
Race Day Events (www.racedayevents.com) is the largest event production, fulfillment, timing, and equipment rental company in the Midwest with headquarters in Fitchburg, Wisconsin. Their mission is to be one of the leading producers and providers of entertainment and recreation events. Race Day Events works with all types of events from small, community 5k/10 run/walks, to large multi-day bike rides, triathlons, mud runs and full marathons. At each event they produce, their goal is to put the participant first by creating accurate and well supported courses that are safe and fun. Their experienced staff strives to distinguish the events and host satisfying, innovative, recreational experiences.
About Start 2 Finish
With offices in Memphis, Tennessee and Charlotte, North Carolina, Start 2 Finish (http://s2fevents.com) is one of the largest event management and timing companies in the country working with all sizes of events from local 5K runs to large marathons and from charity bike rides to national Gran Fondo series. The Start 2 Finish team is on the ground working races throughout the year and their suite of services has helped non-profit organizations put on high quality events and raise millions of dollars for over fifteen years. Additionally Start 2 Finish owns and operates the S2F Performance Lab in Memphis, offering CrossFit classes and endurance workouts, and The Trailhead in Charlotte, offering coworking space for event professionals.
About TimingHQ
TimingHQ (www.timinghq.com), Mylaps largest partner in the western United States, began in early 2016 and has quickly become an international timing company aimed at providing not only the best possible race experience to race directors and participants on race weekend, but throughout the year. TimingHQ offers Timing services, fulfillment, online registration, and registration management consulting as well as a slew of other event products. TimingHQ's staff has worked with and timed some of the most complex events in the United States and abroad over the last twenty years. Their experience spans across many types of events and distances, from Marathons and ½ Marathons to triathlons, cycling, extreme sports and all distances and styles of events in-between.