Skratch Labs Introduces Seasonal Flavor of Hydration Sport Drink Mix: Mango + Tangerine
May 5, 2023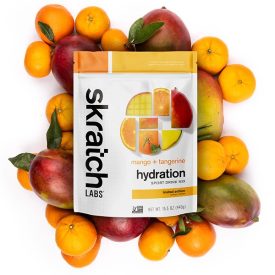 Boulder, CO /ENDURANCE SPORTSWIRE/ – Skratch Labs, an innovator in performance nutrition, announces the release of a new, limited time flavor of Hydration Sport Drink Mix: Mango + Tangerine. This seasonal flavor brings a refreshing, tropical twist to their sport drink mix. Made with real fruit, sugar and the optimal electrolyte profile to replace what you lose when you sweat, this summer refresher is the perfect drink to fill your bottle during your next workout.
Skratch Labs Hydration Sport Drink Mix was created to replace the electrolytes lost in sweat and to provide a little bit of energy when working out, without offending the palate or gut. By eliminating functionless ingredients like artificial sweeteners and colors, athletes can avoid flavor fatigue and GI issues that may derail longer training sessions. The limited edition Mango + Tangerine flavor comes by its refreshing, mildly sweet and citrusy flavor from real mangoes and tangerines. The electrolyte profile matches what's lost by the average person when they sweat, and it contains the right ratio (glucose and fructose) and volume (4g per 100ml) of sugar to support faster hydration and electrolyte absorption.
"During my time working with Pro Cyclists on tour, I'd too often hear athletes complain that conventional sports drinks were undrinkable," said Dr. Allen Lim, Sport Physiologist and Skratch Labs Co-Founder. "They were too sweet, over-flavored and too colorful. These sports drinks were making them sick to their stomach. They needed something that safely kept them hydrated, quenched their thirst and ultimately helped them perform better. So we got to work reimagining the sports drink and created our Hydration Sport Drink Mix."
Mango + Tangerine Hydration Sport Drink Mix is available now at retailers, and on Amazon and SkratchLabs.com starting June 1. This limited edition flavor is offered in a 440g, 20-serving bag and joins the collection of permanent Skratch Labs Hydration Sport Drink Mix flavors: Lemon & Lime, Strawberry Lemonade, Raspberry Limeade with Caffeine, Orange, Pineapple, Matcha Green Tea & Lemon and Fruit Punch.
###
About Skratch Labs
Based in Boulder, Colorado, Skratch Labs is a performance nutrition innovator that helps athletes and active people be better. Skratch Labs was founded by two cycling pros who spent years on the Pro Cycling Tour watching teammates eat terribly and suffer through bad-tasting sports "nutrition" that ruined their stomachs. So, they did something about it. Skratch Labs started as a "secret drink mix" of real sugar, salt, and fruit powder, mixed together in a 5-gallon paint bucket. They wanted to help pro cyclists feel better and ride faster, and they did. Nearly a decade later, Skratch Labs' approach is the same: help athletes perform better by solving their nutrition problems, without causing new ones, using real food ingredients.
Products can be purchased online at http://www.skratchlabs.com or at a variety of retailers. For more information on Skratch Labs and its products, visit www.skratchlabs.com or visit Facebook, Instagram and Twitter. Want to include an affiliate link in your publication? Please visit https://www.skratchlabs.com/pages/affiliate to sign up!
Contact:
Tina Edwards, Marketing Director
800-735-8904
tina.e@skratchlabs.com