Science in Sport (SiS) announces a three-year strategic partnership with Manchester Metropolitan University
March 6, 2023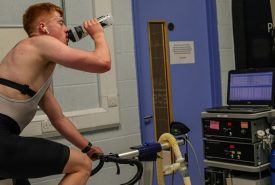 Leading global endurance nutrition brand Science in Sport (SiS) has announced a three year partnership with Manchester Metropolitan University
6th March – London, UK /ENDURANCE SPORTSWIRE/ – The partnership will bring together state-of-the-art facilities and best-in-class research techniques with a global brand at the heart of elite sport to develop new knowledge that will ultimately provide novel performance solutions to athletes.
Science in Sport is the official sports nutrition partner to over 320 elite athletes and professional sports teams including The INEOS Grenadiers, Tottenham Hotspur and The Milwaukee Bucks.
Manchester Metropolitan University's existing partnerships include Manchester City Football Club, Manchester City Women's Football Club, City in the Community, Manchester United Foundation and the Manchester Giants basketball team. The university's academics feed cutting-edge knowledge into sport via their research as well as their direct work with Olympic and Paralympic medal-winning athletes.
SiS's partnership with Manchester Metropolitan University underscores its ongoing commitment to place world-class science at the centre of its global business, working with leading practitioners and scientists to develop evidence-based solutions and to demonstrate the efficacy of all the products it brings to market.
The partnership's research programme involves embedding a PhD student, who will work alongside and be supervised by the university's Dr Mark Hearris, lecturer in exercise metabolism and nutrition, and Dr Fiona Simpson, a specialist physicist in magnetic resonance spectroscopy.
Manchester Metropolitan University, set in a city with sport in its DNA, is a perfect match for SiS to continue its investment in supporting scientific research into sports nutrition and performance, hydration and recovery.
Sam Driver, Commercial Director of Performance Solutions at SiS, said: "We work with the world's best sports teams and athletes, learning what they need to succeed before conducting world-class science and research to create and craft the products required for them to perform at their peak, across all endurance sports. I'm delighted we have signed a multi-year agreement with Manchester Met to demonstrate our commitment in this regard."
Dr Mark Hearris, Lecturer in Exercise Metabolism and Nutrition at Manchester Metropolitan University, said: "We are truly excited to be partnering with SiS to support their commitment to deliver world-class research through their innovative research programme. With the increasing demand placed on athletes and their relentless competitive schedule, this partnership will focus on optimising athlete recovery to allow them to perform day after day."
And Professor James Morton, Director of Performance Solutions at SiS, said: "SiS are proud to continue our longstanding commitment to science and innovation through a new strategic partnership with Dr Mark Hearris and Dr Fiona Simpson at Manchester Metropolitan University. It will allow us to continue our collaborations with global research centres of excellence in our pursuit of developing evidence based performance solutions to athletes. With a strategic focus on recovery, we believe this partnership will lead to exciting innovations that will allow athletes to optimise their recovery and truly achieve their full performance potential".
To learn more about Science in Sport Plc, visit www.sisplc.com, and to shop their extensive range, visit www.scienceinsport.com.
———————————————————- ENDS ———————————————————–
Images: https://drive.google.com/drive/folders/1RRVRyN9C_VwtZ6Sgl8MHV4RxFeG-wbtJ?usp=sharing
CONTACT
Name: Kate Allan – Compete PR
Email: kate@competepr.com
Phone: +447754 072648
About Science in Sport PLC
Headquartered in London, Science in Sport plc is a leading sports nutrition business that develops, manufactures, and markets innovative nutrition products for professional athletes, sports and fitness enthusiasts and the active lifestyle community. The Company has two highly regarded brands, PhD Nutrition, a premium active-nutrition brand targeting the active lifestyle community, and SiS, a leading endurance nutrition brand among elite athletes and professional sports teams.
The two brands sell through the Company's phd.com and scienceinsport.com digital platforms, third-party online sites, including Amazon and Tmall, and extensive retail distribution in the UK and internationally, including major supermarkets, high street chains and specialist sports retailers. This omnichannel footprint enables the Company to address the full breadth of the sports nutrition market, worth $42.9bn in 2022 and forecast to grow CAGR 7.4% from 2023 to 2030.1
PhD has grown rapidly since its launch in 2005 having developed a reputation for high quality products and innovation. The range now comprises powders, bars, and supplements, including the high protein, low sugar range, PhD Smart. PhD brand ambassadors include leading endurance and strength athlete Ross Edgley and influencer Gabby Allen.
SiS, founded in 1992, has a core range comprising gels, powders and bars focused on energy, hydration, and recovery. SiS is an official endurance nutrition supplier to over 320 professional teams, organisations, and national teams worldwide. SiS supplies more than 150 professional football clubs in the UK, Europe, and the USA.
SiS is Performance Solutions partner to Ineos Grenadiers cycling team, Tottenham Hotspur, New York City and OGC Nice football clubs, as well as Official Nutrition Partner to the Milwaukee Bucks, 2021 National Basketball Association Champions.