SBT GRVL Raises $30K for Advocacy Partners Through SBT VRTL Ride Experience
August 26, 2020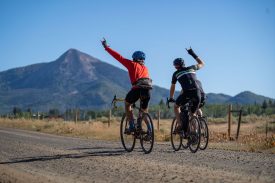 STEAMBOAT SPRINGS, Colo., (August 26, 2020) –SBT GRVL, a world-class gravel bike experience presented by Canyon Bicycles, raised $30,000 dollars for its advocacy partners through its global virtual ride, SBT VRTL . This free community ride experience was held on Sunday, August 16.
Leading up to SBT VRTL the SBT GRVL team enlisted a number of sponsors and members of the gravel community to create 150 suggested routes that riders could choose from. Encouraging safe riding and social distancing SBT VRTL had 1,360 cyclists from 48 different states and 12 countries ride. Participants chose where, when and how long to ride and shared their rides on social media.
"We were grateful for the support from our riders and sponsors when we cancelled the 2020 event and announced SBT VRTL," said Ken Benesh, co-founder and race director of SBT GRVL. "Through SBT VRTL we were able to stay engaged with our gravel community while still making a positive impact on our advocacy partners, which is a central part of our mission."
Over 900 of the registrants donated to SBT GRVL's advocacy partners which includes People for Bikes, NICA GRIT, Community Agriculture Alliance, Steamboat Springs Winter Sports Club and Boys and Girls Club of Northwest Colorado. Participants were also able to donate to the recently formed Mark Satkiewicz Memorial Fund.
The SBT GRVL 2021 event will be hosted on August 15, 2021 with registration opening the first week of December.
About SBT GRVL
SBT GRVL launched August 2019 as a world-class gravel bike experience committed to Beauty, Inclusivity, Family, Challenge, and Fun. The event enables gravel fans of all ability levels to experience the unmatched gravel roads winding around and through the iconic, beautiful mountain town of Steamboat Springs, Colo. Riders are invited to push their abilities on four course distances ranging from 37 miles to 144 miles. Those seeking the ultimate challenge can saddle up to 9,400 feet of climbing on the Black 144-mile racecourse—a sought-after title for endurance gravel pros. The Blue Course is a 'best-of-Steamboat' experience wrapped up in 103 miles and the Red course is a condensed 64-mile "best of" route offering challenge, beauty and fun. The Green Course is a 37-mile introduction to the area's unrivaled gravel roads. Come experience high-altitude gravel, a weekend full of events for the whole family and ranch-town hospitality at SBT GRVL.
-XXX-