Saucony Launches Saucony® X Cycora® Apparel Collection
August 27, 2022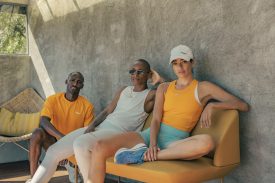 Almost landfill. Absolute performance. Discarded garments find new life in a collection that was built and then built again
WALTHAM, MA (August 27, 2022)/ENDURANCE SPORTSWIRE/ – Every second, the equivalent of one garbage truckload of clothes is landfilled or burned, contributing to the global impact of textile waste on the environment (Ellen MacArthur Foundation). Further advancing its commitment to sustainability and waste reduction, global performance running lifestyle brand Saucony today announces the launch of the Saucony® x Cycora® collection, a line of performance running tops made partially using Cycora material, a regenerated polyester sourced from textile waste that would otherwise have ended up in landfills. The men's and women's collection consists of a fitted tank, crop top, short sleeve and singlet, with each piece using a component that is made of up to 23% Cycora material. Saucony is the first running brand to collaborate with Cycora by Ambercycle™, creating a performance apparel line. The Saucony x Cycora collection is now available exclusively at saucony.com.
"Our journey toward a more sustainable future continues with this collection," said Brian Moore, senior vice president of global product for Saucony. "Advancing our commitment to protect our planet, we continue to seek out responsibly sourced materials and environmentally sustainable business practices to minimize the adverse effects on our community, environment and natural resources. To support the runner, we look for high-performing materials with characteristics that include wicking, drying and breathability. Our collaboration with Cycora allows us to simultaneously reduce the materials going into landfills while producing a premium collection of products that are ready to perform. We are so pleased to partner with Cycora and know that runners will appreciate helping to offset the end-of-life clothing cycle with this collection."
"We are excited to team up with Saucony, a brand that is eager to lead the running industry in helping to bring a vision for circularity to life," said Ambercycle CEO Shay Sethi. "Not just a material, Cycora is a movement, a vision for the future and a community. With this collaboration, we are inviting the global running community to help build a circularity ecosystem, where performance apparel is removed from the cycle of waste and reused over and over. This collection demonstrates the intersection of performance and sustainability through a range of technical tops that are highly breathable, sweat wicking and stylish. We look forward to our ongoing partnership with Saucony to further push the boundaries of performance running apparel that has been made with 'end of life' in mind."
The Saucony x Cycora Collection
Jersey front made from 23% Cycora material
Breathable jersey mesh back made from 18.75% Cycora material
Fitted
SRP: $45.00
Jersey front made from 23% Cycora material
Breathable jersey mesh back and sleeves made from 18.75% Cycora material
Active fit
SRP: $50.00
Jersey front made from 23% Cycora material
Hem vents help you move freely
Active fit
SRP: $45.00
Sizing: The Saucony x Cycora collection is available in men's sizes S-3XL and women's sizes XXS-2XL.
About Saucony: Saucony, the 'Original Running Brand' and a division of Wolverine World Wide, Inc. (NYSE: WWW), is a leading global performance running brand that fuses innovation, style and culture. Widely recognized for award-winning technologies including PWRRUN™ PB, PWRRUN+™, and SPEEDROLL™, Saucony creates innovative technical and lifestyle footwear and apparel across Road, Trail and Originals. Founded in 1898, Saucony exists to inspire and serve all humans to live their best life by providing access to running, self-expression and creating a better world. For more information, visit www.saucony.com.
About Cycora®: Cycora, the first solution offered by Ambercycle, Inc., is the premium regenerated material made from end-of-life textiles. Launched in 2020, Cycora is the product of the breakthrough Ambercycle™ technology developed to end waste in the fashion industry. Cycora represents a wider movement to re-envision the future of fashion and reduce dependence on Earth's raw resources, bringing us one step closer to living in material harmony. For more information, visit www.cycora.com.
###