Saucony® Introduces All-New Peregrine 11 Trail Collection
January 12, 2021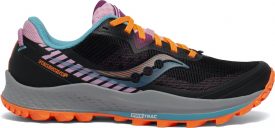 Built on a trusted foundation of PWRTRAC and PWRRUN, the Peregrine 11 delivers dirt-power goodness that's both responsive and aggressive
WALTHAM, MASS. (Jan. 12, 2021) – Global performance running lifestyle brand Saucony has unveiled the all-new Peregrine11Collection, a triad of grippy, protective trail shoes built on a trusted foundation of PWRTRAC™ rubber lugs and PWRRUN™ cushioning that feels both aggressive and responsive. Named for the fastest bird on Earth, the award-winning Peregrine Collectionincludes the always capable Peregrine11 with grippy versatility to handle nearly every trail; the Peregrine11 ST for muddy, sloppy conditions; and the Peregrine11 GTX® with waterproof protection. The Peregrine11 Collectionwill be available at saucony.com and select running specialty retailers globally beginning Feb. 1, 2021.
"With new runners and more traditional road runners taking to the trails in record numbers, the award-winning Peregrine is a trustworthy companion that excels in all that matters: traction, cushioning and durability," said Katie Pyle, product line manager for Saucony Trail. "The 11 builds on the shoe's winning formula of dirt-power goodness, being equally at home on the sandstone slickrock of Utah or at a 5K mud fest in Vermont. We know the Peregrine 11 Collection will inspire runners of all levels to revel in the challenge and joy of off-road running, elevating their running experience while forging a deeper connection with themselves and the great outdoors."
About the Peregrine11 Collection
The latest generation of the renowned Peregrine extends the limits of performance innovation on many levels. All three shoes of the Peregrine11Collection (Peregrine 11; Peregrine11 ST; Peregrine11 GTX) offeraggressive lugs made of PWRTRAC tacky rubber that conform to dig in and confidently grip a wide variety of terrain. PWRRUN midsole cushioning provides more flexibility, durability, responsiveness and protection to push uphill and drive downhill with confidence. A rock plate provides additional underfoot protection from trail debris while a mapped outsole guides runner on where to perfectly place studs or drainage holes. The Peregrine 11 Collection is designed with a 4mm offset, allowing the foot to move naturally and uninhibited while increasing the runner's proprioception and balance over tricky trails.
Peregrine 11: Hit the trails at peak speed.
Runners will love the responsiveness, sticky traction and teeth-like tread of this fast trailblazer. A new, dynamic upper uses a durable ultralight top layer to protect feet from trail debris. Saucony's most versatile trail shoe, it's packed with everything runners need to move fast over rugged terrain.
Peregrine11 ST:Go off trail. Not off speed.
When the ground gets soft, the Peregrine 11 ST shines. Taking the responsive feel of the Peregrine 11, the ST (soft terrain) version is modified to excel in sloppy, muddy conditions. It's equipped with deeper lugs, spaced out to dig in and shed mud fast. The rock plate on the Peregrine11 ST is enclosed for underfoot protection and to safeguard from mud. Up top, a debris-resistant mesh upper with 3D-printed overlays protects against trail hazards and is finished with a tight mesh shield over the tongue for a final measure of defense.
Peregrine11 GTX:All trails. Any forecast.
From summer squall to snowstorm, rain and snow, feet stay dry and comfortable in the waterproof Peregrine 11 GTX. Starting with the brand's most versatile and most trusted trail shoe, the GTX version is packed with everything runners need to move fast over rugged terrain. A GORE-TEX upper is added for lightweight, flexible, waterproof protection.
Multi-Award-Winning Heritage
Since the shoe's original debut in Spring 2011, the Peregrine has been named by Runner's Worldas "Editor's Choice" four times.
 Peregrine11 Collection Availability
The Peregrine11 Collection will be available at saucony.com and select running specialty retailers globally beginning Feb. 1, 2021. ThePeregrine11 will be available in men's sizes 7-13 and 14, and women's sizes 5-12. The suggested retail price of the Peregrine11 is $120.00; the Peregrine 11 ST is $130.00; and the Peregrine 11 GTX is $150.00.
To find a Saucony retailer near you, call 800-365-4933 or visit here.
About Saucony: Saucony, a division of Wolverine World Wide, Inc. (NYSE: WWW), is a leading global running lifestyle brand that fuses performance, innovation and style to create compelling footwear and apparel with its widely recognized brands Saucony and Saucony Originals. Founded in 1898, Saucony exists to empower the human spirit, with every stride, on every run, in every community. The brand's call to action, Run for Good, is Saucony's invitation to people everywhere to experience the transformative power of running.Saucony's award-winning innovations includePWRRUN™ PB, PWRRUN+™, and FORMFIT™. At Saucony, a good day is when we run. A better day is when we inspire others to run. For more information, go to www.saucony.com.
###