Saris Announces New Rack Products and Innovations for Spring/Summer 2023
April 18, 2023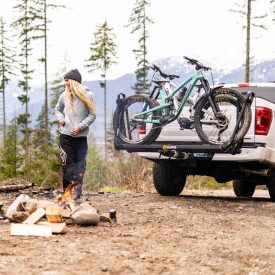 USA manufacturer brings electric bike and RV compatibility to some of their most popular line-ups, making bike transportation easier for even more riders
MADISON, Wis. (April 18, 2023) /ENDURANCE SPORTSWIRE/ – Saris, manufacturer of world-class bike racks, trainers, storage and infrastructure, announces a number of new product offerings and a few additions to their most popular collections for the spring/summer season. Just in time for warmer temps, Saris products can now accommodate an even broader variety of bikes, vehicles and cyclists. From their future-proof, highly customizable modular hitch platform system (MHS) to the powerful Door County options, Saris is showcasing these products, and more, during the upcoming Sea Otter Classic, April 20-23, in Monterey, CA (booth A11).
"At Saris, we are always striving to provide our customers with the best possible bike transportation solutions, and we are confident that these new features and innovations within the MHS and Door County families of products will make traveling with bikes even easier and more enjoyable for our customers," said Kellen Pagel, Saris Product Manager.
With their growing popularity, the heft of e-bikes has been a sticking point for many cyclists looking to travel with their bike. Saris' popular modular hitch system (MHS), now boasts an increased bike-weight capacity of up to 80 pounds in certain configurations, making it the perfect solution for e-bike enthusiasts and those with heavier bikes. Additionally, having passed Saris' rigorous testing across multiple models and all three classes of RVs, the 2-bike configuration of MHS DUO bike trays is now RV compatible, giving road warriors even more freedom to travel with their bikes, leaving the hassle behind.
The Saris Door County, a hitch-mounted electric lift bike carrier, is now also RV approved, making it an even more versatile option for bike transportation. With its new RV approval, the Saris Door County can be used on a wide range of recreational vehicles, from motorhomes to fifth wheels.
Rounding out the products available now for purchase is the improved Glide EX rack. Providing access to the rear of the car in just one step thanks to a trigger and its one-step glide action, the Glide EX will now feature both a 4- and 5- bike configuration.
In the coming months Saris plans a number of new product innovations and reimagined fan-favorites, both within their rack and trainer offerings.
All Saris products are designed with the highest quality materials and engineering, ensuring that bikes are transported safely and securely. Saris is committed to providing cyclists with the most reliable and convenient bike transportation options, and these new features are just another step in that direction.
To learn more about these products and to find a Saris dealer near you, please visit our website at www.saris.com.
About Saris
Saris exists to break down barriers and provide opportunities for all people to fall in love with the bike. Inclusive thought process is behind everything they do. Through their products, their people, their partners, and their advocacy efforts – Saris is dedicated to removing the obstacles that exist between ALL people and their ride. Based in Madison, Wisconsin, Saris proudly dreams, designs, and builds car racks and indoor bike trainers, bike storage racks, as well as public bike systems and infrastructure. For additional information on Saris products, visit Saris.com, follow @sarisofficial on Twitter, like @sarisofficial on Facebook, and follow @sarisofficial on Instagram.
###
Media Contact:
Deanna Sanderson
Marketing/PR Manager
Saris Equipment LLC.
608-729-6141
dsanderson@saris.com