SaltStick Electrolytes, Nix Biosensors Team Up with 8x IRONMAN Winner Ben Hoffman and Others for Education Campaign Around Sweat Testing & Hydration Science
July 18, 2023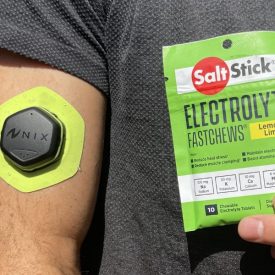 The 'Sweat Science' campaign is designed to reduce the guesswork involved in hydration during training and competing
THOUSAND OAKS, CALIF.— July 18, 2023 /ENDURANCE SPORTSWIRE/ – SaltStick, a leading electrolyte brand, and Nix Biosensors, a cutting-edge health biosensing company, have joined forces to educate endurance athletes about the growing use of sweat testing in sport. Titled Sweat Science, the three-month digital campaign will follow the journey of five athletes as they test their sweat's electrolyte content and use the results to adapt their fueling and hydration strategies.
Participating athletes include 8x Ironman champion Ben Hoffman, professional tennis player Danielle Lao, ultrarunner and 100-mile treadmill world record holder Taggart VanEtten, certified run coach Nikkia Young, and SaltStick team member Gabe Arias.
"SaltStick helps reduce the guesswork involved in hydration by creating products that specifically mirror the electrolyte breakdown found in sweat. As science rapidly progresses, we're excited to partner with Nix to better understand how SaltStick products can fit into individualized hydration strategies. We hope Sweat Science can bring to light the crucial role electrolytes play in keeping athletes not just healthy, but thriving during training and competition," said Joseph Havey, Brand Director at SaltStick.
Proper hydration is fundamental to athletic performance, but hydration needs can vary widely across athletes – or vary for the same athlete depending on altitude, weather, humidity, among other factors. Many athletes also underestimate the level of electrolytes they lose, which can be up to 2,000 mg of sodium per hour. Sweat tests, which can quantify both fluid and electrolyte losses, are an increasingly common way to help navigate this uncertainty and provide athletes with critical decision-support data during training and competition.
"I have many peers who have benefited from getting their sweat tested, but I've never taken the plunge myself. I'm excited to learn more about my sweat rate and how that impacts my performance on the tennis court," said Lao.
Over the course of three months, athletes will use Nix Biosensors technology to monitor their sweat loss and test for water and electrolyte content. Each athlete will meet with Jess Cerra – professional cyclist and chef, as well as the Vice President of Community and Product Development at Alete Active Nutrition, LLC, which owns the SaltStick brand – to discuss how they implement the results into their hydration strategy. These discussions will be broadcast over Instagram Live on the @saltstick account. Additional video and blog content will document how these fueling changes impacted the athletes' performance.
"Sweat testing can seem daunting, but science has come a long way in recent years, and it's become increasingly accessible. Our Hydration Biosensor is a non-invasive solution to empower athletes with real-time data on their hydration levels, helping them perform at their best. We look forward to seeing how each athlete utilizes the Nix Hydration Biosensor to optimize their training," said Meridith Cass, CEO and Founder of Nix.
In addition to educational content, the campaign, which kicks off July 18, 2023, will feature multiple joint giveaways from SaltStick and Nix. Visit SaltStick.com/SweatScience for more information.
About SaltStick
Founded in 2006, SaltStick makes electrolyte replenishment products designed to improve the performance of people who sweat. Built with clean, balanced ingredients, our products contain what you need to feel good, whether you're an athlete, outdoor enthusiast or anytime you need a boost of electrolytes. SaltStick products are now sold in over 40 countries around the world. The SaltStick brand belongs to Alete Active Nutrition, LLC, a portfolio company backed by American Pacific Group, which also owns JoJé Bar and Bonk Breaker. More information is available at saltstick.com.
About Nix
Nix is changing the way humans manage health by empowering consumers to access, understand, and act on their personal biology in real time. Nix's first consumer product is a sweat patch that provides athletes, soldiers, and laborers with hydration data in real-time, helping them optimize safety and performance. Headquartered in Boston, Mass., Nix is led by Founder and CEO Meridith Cass, a graduate of Harvard Business School, former VC, and 9-time marathoner. Advisors include Tom Fowler, Former President of Polar; Dr. Bob Murray, Founder and former Director of the Gatorade Sports Science Institute, and Tatyana McFadden, the 5x Olympian and 17x Medalist. Learn more at nixbiosensors.com.
Media Contacts
SaltStick
media@saltstick.com
Nix Biosensors
press@nixbiosensors.com
+1 952.426.8747