Runners take over Baton Rouge for the running festival with lagniappe
January 12, 2023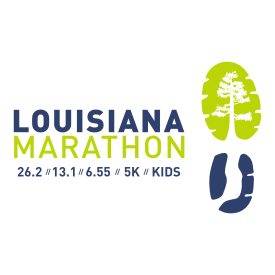 Louisiana Marathon returns for 12th year in Baton Rouge
BATON ROUGE, LA. /ENDURANCE SPORTSWIRE/ – Thousands of runners from over 47 states, Canada, Mexico, and Honduras will celebrate more than a decade's worth of passion for running and Louisiana culture at this weekend's Louisiana Marathon.
Celebrating its 12th year, the Louisiana Marathon aims to encourage the community to embrace an active, healthier lifestyle, and celebrate their win in true Louisiana fashion with a weekend-long festival rich with local food, live music, and fun for the whole family. Previous studies indicate that the Louisiana Marathon weekend generates between $2 million and $4 million in economic impact each year, with nearly every hotel in downtown Baton Rouge selling out.
"We are thrilled to welcome runners from around the country to celebrate Louisiana culture with a healthy serving of running," said Mike Wattigny, Marketing Director for FRESHJUNKIE Racing. "When most people think of Louisiana, it's exclusively about the parties. This weekend combines the healthy habits of running and walking with everything that makes Louisiana great, and we couldn't be more excited to entertain our guests."
New this year, Live after Five Lagniappe will help to kick off the Louisiana Marathon weekend with a free live outdoor concert with food vendors, artists and makers at Rhorer Plaza on Friday, January 13, from 5:00-7:00pm.
Year after year, friends, family and supportive spectators line the streets to cheer on the runners who come from all over the country. The marathon course takes runners from downtown Baton Rouge through the University Lakes, the Louisiana State University campus, and through historic river town neighborhoods. The Louisiana Marathon is a USAT&F Certified course and an official Boston Qualifier route. It boasts one of the highest BQ rates of all marathons since it features a fast, flat, runner-friendly route.
There is a race for runners of all experience levels, who can choose to compete in the Full Marathon (26.2 miles) or Half Marathon (13.1 miles) on Sunday, Jan. 15; or the Louisiana Quarter Marathon (6.55 miles), Louisiana Marathon 5K (3.1 miles) and a Blue Cross and Blue Shield Kids Marathon (1 mile), which all take place on Saturday, Jan. 14. Runners who compete on both days receive a Déjà Vu Award. If they competed in the Mississippi Gulf Coast Marathon in Dec. 2022, the Louisiana Marathon's sister race, they are awarded the Beach~2~Bayou medal.
###
The Louisiana Marathon & Half Marathon
Sunday, Jan. 15 at 7:00 a.m.
660 N 4th Street, Baton Rouge, LA US 70802
Louisiana Quarter Marathon & Louisiana Marathon 5K
Saturday, Jan. 14 at 8:00 a.m.
660 N 4th Street, Baton Rouge, LA US 70802
Blue Cross and Blue Shield Kids Marathon (1 mile)
Saturday, Jan. 14 at 10:30 a.m.
660 N 4th Street, Baton Rouge, LA US 70802
The Louisiana Marathon Expo (packet pickup and registration)
Friday, Jan. 13, 11:00 a.m. – 6:00 p.m.
Saturday, Jan. 14, 10 a.m. – 5:00 p.m.
Raising Cane's River Center Ballroom, 275 South River Road, Baton Rouge, LA 70802 // Rhorer Plaza level, enter through the doors facing the Old State Capitol.
ABOUT FRESHJUNKIE RACING:
FRESHJUNKIE Racing (FJR) is an endurance event production company specializing in road running races and triathlons.  Currently, FJR produces 19 events annually: 12 in Louisiana, 1 in Mississippi, 3 in Alabama, 2 in Missouri, and 1 in Florida.  While 13 of the 19 events are company owned events, FJR offers event services for organizations looking to outsource the production of their running race or triathlon.  FRESHJUNKIE Racing prides itself on attending to the small details.  Because they matter.  We are a production company made up of athletes that produce events for athletes. We know what it means to plan, train for, and participate in events and we know what the small details are.  From initial planning, permitting, and overall event operations to graphic design, marketing, and video production, we are a complete shop.  We are exhaustive in our preparation and comprehensive in our execution so that athletes can participate in experiential events they will remember for years to come.
For more info visit: https://freshjunkieracing.com/
###
Contact:
Mike Wattigny, Marketing Director | mike@freshjunkie.com | (504) 952-2899
Kelly Goff, Marketing & PR Coordinator | pr@freshjunkie.com | (225) 281-3002