Runners' Miles Will Save Wildlife as Boulderthon Partners with Denver Zoo
August 17, 2023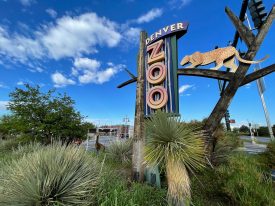 Denver Zoo Signs on as Boulderthon's Official Conservation Partner and Title Sponsor of Kids Run
BOULDER, Colo./ENDURANCE SPORTSWIRE/ – Denver Zoo is joining the partner pack at Boulderthon®, the fastest-growing running series in Colorado. The nonprofit wildlife conservation organization, which cares for more than 3,000 animals on its Denver campus and helps save wildlife around the world, has signed on as the Official Conservation Partner for the event, as well as the Title Sponsor of the Kids Run. This relationship elevates the Zoo's mission and conservation efforts and creates an engaging new way for participants of all ages to be educated on how they can save wildlife for future generations.
As the official conservation partner, Denver Zoo will be put into focus as race weekend approaches and during the Boulderthon festivities on Oct. 8. In particular, the youngest participants will have a chance to make their miles extra wild. During the Kids Run, children will have the opportunity to join the "team" of one of three animals: the Lion, the Penguin, the Elephant. The animal with the most finishers on its team will be deemed the winner. For every participant on the winning team, Boulderthon will donate $10 to Denver Zoo. Participants will also receive a free Zoo day pass.
"As the dad of a future runner, I'm especially thrilled about how this collaboration with Denver Zoo will incentivize kids to enjoy healthy movement and make an impact on their world," said Phil Dumontet, founder and president of Boulderthon®. "We're interested in elevating the race day experience for all of our participants – big and small. We can't wait to see this collaboration with Denver Zoo roar to life."
For more than 125 years, Denver Zoo has connected millions of guests with wildlife through world-class habitats, and education and outreach programs. The Zoo has dedicated staff or funding to more than 600 wildlife conservation projects in 62 countries and supports individual animals through rescue and rehabilitation initiatives. Runners will have a chance to interact with Zoo team members during the expo and all throughout race weekend.
Registration for Boulderthon remains open, though it is expected to sell out again this year. The top-rated, fast-growing race series became the second-largest marathon series in Colorado in its first year of existence, and the largest fall running event in the state. In its second annual edition, Boulderthon drew runners from all 50 states as well as 15 countries, as the signature marathon showcased the world-class city of Boulder. After nearly tripling in size last year and selling out, Boulderthon has instituted a new 8,000 runner cap. In 2023, Active.com named Boulderthon one of the Top 5 Best Half Marathons in the United States.
For more information on Boulderthon, visit www.boulderthon.org.
ABOUT BOULDERTHON®
Boulderthon® was created in 2021 by avid New York Road Runner, Phil Dumontet, with the goal of bringing a world-class marathon to one of the great running hubs of the country. It is a Boston Marathon Qualifying (BQ), USATF Sanctioned Event, measured by a Level A USATF Course Measurer, representing the highest level of certification for a marathon race series. The race offers a full marathon, half marathon, 10K, 5K, and children's races. For more information, visit www.boulderthon.org.
ABOUT DENVER ZOO
Home to almost 3,000 animals representing more than 450 species, Denver Zoo is a non-profit 501(c)(3) organization, and the city's oldest and most passionate advocate for the natural world. The Zoo is among the most visited cultural destination in Colorado, serving almost 2 million people per year, and accredited by the Association of Zoos and Aquariums (AZA), which assures the highest standards of animal care. With the mission inspiring communities to save wildlife for future generations, Denver Zoo dedicates almost $2 million annually to Zoo-led programs aimed at protecting animals within their natural habitats around the world. For more information, visit DenverZoo.org.
###