RunDot Launched by Predictive Fitness, Developer of TriDot
May 17, 2023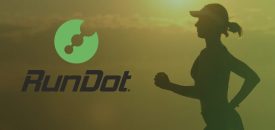 The run training platform for both athletes and coaches, driven by decades of data and AI to produce better results in less time with fewer injuries.
DALLAS, TX – May 17, 2023 /ENDURANCE SPORTSWIRE/ – Predictive Fitness announces the launch of RunDot, a run training app driven by decades of data and patents-pending artificial intelligence. The platform produces dynamic, individualized run training for better results in less time while being motivational, fun, and easy to use.
RunDot leverages the same core proven optimization technology as TriDot (its sister app for triathletes) and features an athlete community that is as supportive as the training is effective. Touted in publications such as Forbes, Men's Health, Tech Times, Triathlete, LA Weekly, NY Weekly, and Men's Journal, TriDot has long delivered performance improvements that significantly outpace the gains made by other training methods.
"Runners no longer have to rely on static plans, simplistic 'adaptive' training templates, or someone's personal training philosophy," says Jeff Booher, CEO and Founder of Predictive Fitness Inc., developer of RunDot. "Our proprietary and one-of-a-kind technologies consider numerous factors such as genetics, environmental conditions, age, and normalized training stress to prescribe optimal training for runners so they can better achieve their health and fitness goals, avoid injuries and break through performance plateaus."
RunDot can be used with or without a coach, like TriDot, which has attracted hundreds of coaches including some of the most prominent names in the sport of triathlon. Mark Allen, Michellie Jones, Mirinda Carfrae, and Tim O'Donnell are a prestigious group of coaches on the platform with 10 IRONMAN World Championship titles, numerous Hall of Fame honors, and an Olympic Silver medal. RunDot similarly offers coaches the ability to better serve their athletes and their coaching businesses by letting technology do what technology does best – analyze data and optimize training – so that coaches can focus on the human side of coaching and spend more quality time with their athletes.
"We're very excited to leverage our proven Optimized Training platform to bring unparalleled results to athletes and coaches in the running world at a price point that fits any budget," adds Booher.
ABOUT RUNDOT
RunDot is a software-as-a-service (SaaS) technology and performance science division of Predictive Fitness, Inc. that provides Optimized Training™ for runners. Through over 18 years of data gathering and R&D, its patents-pending technology uses each athlete's biometrics and training data along with its own proprietary big data and artificial intelligence engine to design and optimize training for athletes, with or without a coach. RunDot handles the analytics and training program design, giving coaches more time to work with their athletes. RunDot produces substantially greater results in up to 30% less training time. www.RunDot.com
ABOUT PREDICTIVE FITNESS
Predictive Fitness leverages its comprehensive dataset and nSight™ Intelligence Engine to power applications that optimize health, fitness, and performance. It employs its proprietary normalizing technologies, artificial intelligence, machine learning, predictive analytics, and other patent-pending technologies to create solutions for endurance athletes, general fitness, health-conscious individuals as well as military, employer, insurance, healthcare, and wellness stakeholders. Predictive Fitness harnesses data to help people live healthier, longer, and happier lives. www.Predictive.fit