Run Show USA Partners with the Chicago Area Runners Association
September 13, 2021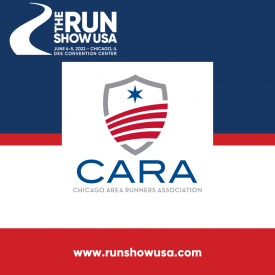 CARA to connect Chicago-area running community of 10,000+ members to Run Show USA
Run Show USA, the inaugural consumer running exposition scheduled June 4-5, 2022, at DES Convention Center in Rosemont, IL, today announced that the Chicago Area Runners Association (CARA), the non-profit organization known as Chicagoland's running club will be a key partner for the event. Run Show, USA, Chicago is set to welcome 10,000 runners to experience the best and newest running gear, tech, advice and camaraderie aimed to inspire and optimize training.
"The Run Show is the perfect opportunity for our runners to connect with all of the resources they need to ensure a successful preparation for the fall marathon season. We couldn't be more excited to partner with the Run Show!", commented Greg Hipp, Executive Director, Chicago Area Runners Association.
Nathalie Davies, Group Event Director at Raccoon Events, the company behind Run Show USA, said: "We are delighted to be working with such a recognized organization among Chicago-area runners. Bringing the running community together to one location, they will have access to top brands, cutting-edge gear, nutrition and technology they need for a successful 2022 running season."
With a first-class speaker line-up including Carl Lewis, Dean Karnazes, Susie Chan, Kelly Roberts and Camille Herron the event will include a packed schedule of inspirational and educational talks; training tips from a wide range of experts; and product information from leading running brands.
Special features include a Running Skills Theater, Trail Zone, Strength Training Zone, Gait Analysis and Recovery Zone. The Run Show USA, Chicago is scheduled for the beginning of June 2022, a peak running and training season where runners are looking for inspiration, performance gear and apparel, nutrition advice, races to enter, and personal training technology designed to track their progress.
To find out more about the event or to register to attend visit: https://runshowusa.com/chicago/
####
About Run Show USA:
The Run Show USA was conceived by Raccoon Events Ltd. Founded in 2016, Raccoon Events is a dynamic UK events business run by a group of exhibition and digital marketing experts with experience in organizing consumer expos worldwide. The company is headquartered at 2 Bell Court, Leapale Lane, Guildford, GU1 4LY, UK. info@raccoonevents.com, +44 0203 770 9303, www.raccoonevents.com
About the Chicago Area Runners Association, CARA:
The Chicago Area Runners Association, CARA, is a non-profit organization committed to serving and advocating for the local running community. We are Chicagoland's running club, providing accessible opportunities for all runners to train, race, learn, be social and volunteer. CARA, with over 10,000 members, is the nation's third-largest running club, serving as the voice of local runners, as well as providing over 1,300 dates of programming and events per year. Learn more at www.cararuns.org.