Run Medford Partners with Kinomap to Expand Event Fundraising Reach
September 19, 2023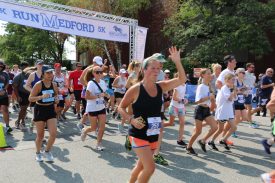 The Dave McGillivray Finish Strong Foundation seeks to inspire and empower youth across New England with fitness events like Run Medford, and Kinomap will help broaden exposure worldwide
(Sept. 19, 2023) /ENDURANCE SPORTSWIRE/ – In an exciting addition to its second iteration, Run Medford is partnering with Kinomap for Races to film the Saturday, Sept. 23 five miler and bring the event to runners on treadmills or other cardio devices anywhere in the world. Not only will this partnership take a growing Massachusetts race to runners around the world, but it also formally launches Kinomap's focus on charity events, gaining them larger audiences and participant bases for vital fundraising efforts.
Gary McNamee, Managing Director of Kinomap, North America, shares how his admiration for Dave McGillivray's lifelong focus on running and charity have been a formative influence:
"In 1978, Dave McGillivray's Run Across America was perhaps the first major endurance feat connected with a major charity, the Dana Farber Jimmy Fund. While I worked on the technology that is now part of Kinomap, I often talked to Dave about how exciting it would be to bring a race right into people's living rooms, and how it could improve access to great running events," shared Gary. "Kinomap's simulation platform is a game changer, and I believe that charity events have nothing but gains to come as they pair their events with our accessible technology."
Run Medford is presented by the Dave McGillivray Finish Strong Foundation and produced by DMSE Sports. The 2023 edition will feature new distances and events, including a five-mile run and two-mile walk at Medford City Hall on Saturday morning, and as well as children's and mile events at Hormel Stadium on Friday night. Festivities will kick off with the dedication of the Dave McGillivray Track at Hormel on Friday afternoon.
Dave McGillivray commented: "A few years ago I ran the simulated Falmouth Road Race, and I saw and heard the cheering spectators, felt every hill and even broke the finish line tape. Gary's technology was fun and gave more participants access, including troops deployed to Afghanistan. I'm excited to have this technology as part of our fundraising arsenal and look forward to sharing the streets of Medford with the world."
Kinomap's platform allows athletes to simulate participation in a live event, with their cardio device automatically providing incline changes to mirror the hills of the route, just like being there in real life. On site video of the race day experience, displayed on your tablet, TV or smartphone, further enhances the experience.
Events everywhere are invited to film their courses and upload them to Kinomap. Interested race directors can learn how their event can be included here.
The Run Medford five mile will be available on the Kinomap platform later this fall. Learn more at kinomap.com and download the app for your Apple or Android device.
For more information on Run Medford, visit runmedford.com and follow the race on Instagram and Facebook.
For more information on the Dave McGillivray Finish Strong Foundation, visit davemcgillivrayfoundation.org and follow the foundation on Facebook, Twitter and Instagram.
ABOUT THE DAVE MCGILLIVRAY FINISH STRONG FOUNDATION
The Dave McGillivray Finish Strong Foundation seeks to inspire and empower youth across New England and beyond to increase physical activity, expand literacy, and build community and self-esteem through running, reading, and performing acts of kindness. Their vision is rooted in a belief that discovering a passion for physical activity, reading, and acts of kindness at a young age gives individuals self-confidence and self-respect, which empowers them to move forward—one step at a time. For over eighteen years, the foundation has remained committed to preparing individuals for future success and building vibrant communities. For more information on the Dave McGillivray Finish Strong Foundation, visit davemcgillivrayfoundation.org and follow the foundation on Facebook, Twitter and Instagram.
ABOUT KINOMAP FOR RACES
Kinomap is a developer of a patented course simulator technology for treadmills and other cardio equipment. The company partners with marquee endurance events, creating a race day course simulation, capturing all the electricity and excitement of the event from a runner's point of view for an interactive course preview of an event, or to train and visualize prior to race day. Entrants can also participate remotely and officially through running, cycling, and even rowing in their health club or living room. This can turn a local live foot race into an international multi-sport event, creating a wider opportunity for the race with a pay to participate experience, benefitting the race, its sponsors, its vendors, its charities and participants around the world. For more information, please visit Kinomap for Races.
Media inquiries, please contact Charlotte Berthelot, Director of Marketing and Communications marketing@kinomap.net