Run Industry Veterans Tanya and Bert Pictor and Luke Rowe Launch Jogology™ Running Socks Exclusively for Run Specialty Stores
July 11, 2023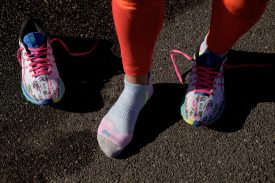 Wake Forest, N.C. (July 11, 2023) /ENDURANCE SPORTSWIRE/ – Running industry veterans Tanya and Bert Pictor and Luke Rowe introduce a new running sock brand called Jogology, to be sold exclusively at Run Specialty stores beginning in September. Founded by lifelong runners with a combined century of knowledge on running-focused brands, product development and retail, Jogology's brand ethos is to grow the running community in meaningful ways – to unite runners around the world and inspire community.
The word 'jog' means to run in more than 30 languages. It's universal and it unites the running community. 'Ology' refers to the study of a subject, which the Pictors and Rowe have spent years perfecting.
Jogology's founders are committed to putting their retail partners first to help them grow their businesses. "We want Jogology to be as much a success for us as for the stores who commit to stocking our brand," said Tanya Pictor, co-founder of Jogology.
To offer the ultimate in running sock comfort, Jogology socks are designed to mirror how running shoes are made – to lock in the heel and midfoot to minimize in-shoe movement and leave your toes free to flex. Each sock offers a second-skin fit with unique arch support massage bands to eliminate excess fabric and create a moisture management layer between the foot and the shoe. A soft knit rib band around the ankle area eliminates pressure marks, and a unique protection area covering the large toe to prevent any discomfort.
Jogology socks are made on 200 needle machines which offer the finest knit construction, and the socks are made from sustainable, recycled, moisture-management re-dri yarn with a super soft hand and extra durability. Strategically placed mesh panels offer extra aeration and ventilation during movement, and the anatomical shaping of each sock is designed to fit left and right feet. The arrow heel technology provides a snug cradle to cover your full heel, ensuring the socks stay in place.
The socks are available in three different cushion levels (low, medium and high) to accommodate cushion comfort preferences of all runners, and will retail for $16 MSRP.
Jogology values the opportunity to enjoy and explore the world while running. Focusing on sustainability, Jogology strives to operate as a low-carbon business, making ecological conscientious choices in every aspect of production. Key sustainability efforts include the use of high-performance yarn made from recycled materials and sustainably harvested wood pulp, incorporating recycled polyamides for plaiting and patterning, utilizing packaging made from post-consumer waste recycled paper, and avoiding the use of plastic in packaging, except for white-colored products to ensure the cleanliness of white socks.
Partnering with and supporting organizations within the running community is a key pillar of this new brand. "Throughout our years running, and the various communities that come with it, have given us more than we could ever have imagined. Now it's our turn to give back," Pictor noted. "Our aim is that Jogology becomes a vehicle for all runners, each with their own unique social interests, to reach out and connect where it matters to them most."
One organization that Jogology's Reach cause platform will support is Leader Dogs for the Blind, which provides four-legged running companions for the visually impaired. Understanding the special bond between humans and dogs, and believing that they make the perfect running partners. Together, they can help bring the joy of running to those who haven't been able to experience it before.
Through its Reach platform, Jogology will support its community of store ambassadors who are the boots on the ground at retail and who make a daily difference in their local communities working in areas of need.
Jogology Socks will be available in select specialty run retail stores beginning in September 2023.
About Jogology
Jogology™ is a performance running sock brand made by runners, for runners. One unique design, one sustainable moisture-management yarn, all the bells and whistles you need to perform at your best. Our socks provide comfort, performance and value all in equal measures. They're designed to help you go the distance, whatever that may be for you. Partnering with and supporting organizations that reach out and connect with the running community is a key pillar of this new brand. Our aim is that Jogology™ becomes a vehicle for all runners, each with their own unique social interests, to be able to reach out and connect where it matters to them most.
MEDIA CONTACT:
Verde Brand Communications
Marisa Dobrot (marisa@verdepr.com)
Julie Evans (julie@verdepr.com)
970.946.0856