Run Catalina Announces Lightfoot Coaching Training Programs for Run Catalina Athletes as the Official Coach of Run Catalina events
September 9, 2022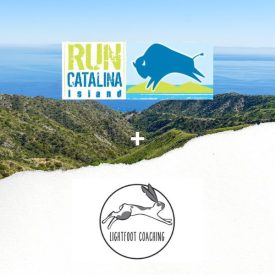 /ENDURANCE SPORTSWIRE/ – Run Catalina announced today the addition of Lightfoot Coaching training programs for its trail athletes.
"Proper trail training is crucial for runners competing on any of our Run Catalina courses, which are filled with challenging peaks, elevation changes, and rewarding views of Catalina Island. We are offering packages from a monthly plan to individualized training programs for Catalina Island and they will include coaching for all three races on the Island," says Mike Bone, CEO of Spectrum Sports Management, Inc.
Lightfoot Coaching training programs allow Run Catalina athletes to work directly with highly experienced coaches in preparation for the Catalina Island Half Marathon on November 12, 2022, Avalon Benefit 50 Mile/50K Run on January 7, 2023, and the Full Marathon on March 11, 2023. Three coaching packages are available for athletes to purchase during or after the registration for each Run Catalina event.
Coaching Packages Include:
Daily check-ins and revisions to the training plan
Custom training plan generated one week at a time
Custom strength & mobility routines for injury prevention and performance
Personalized psychological skills development
Unlimited email and text communication with coaches
monthly call with a coach
Invitation to monthly group calls
The coaching programs are led by Jade and Nick, who are both highly experienced coaches and former runners with impressive backgrounds.
Coach Jade Belzberg is a Running Coach, Writer MFA and MSc, who has been running since 2014 with her first ultramarathon being the notorious Grand Canyon R2R2R. Since then, she has placed 1st at races like Zane Grey 50, PCT 50, and Crystal Mountain Sky Marathon and podiumed at races like San Diego 100, Orcas Island 100, and Santa Barbara Nine Trails. She also holds FKTs in SoCal and British Columbia, Canada (where she grew up!). Jade is a freelance writer by trade and holds a Master of Science in Functional Medicine and Nutrition to help athletes and non-athletes alike achieve better health.
Coach Nick De la Rosa is a Running Coach & Gait Analyst, CSCS
Nick completed his first marathon at age 15 and his first 100-miler just a few years later. By 19, he was the youngest person ever to complete the notorious Badwater 135 across Death Valley. Nick has an extensive race resume with wins at Fat Dog 120, Cruel Jewel 100, and Orcas Island 100. However, he is best known for his 2nd place at Tor des Geants and, most notably, his finish and win at the 2013 Barkley Marathons.
In 2018 Nick had open heart surgery to repair an aneurysm. Since then, he has become particularly interested in the psychological aspects of running endurance distances. Nick is currently pursuing his MS in Sport and Performance Psychology to work with athlete identities, pre-race anxieties, and help create a stable sense of self regardless of race outcome. He is especially interested in working with former professional athletes looking to transition toward a healthy love of their chosen sport again.
To learn more about coaching packages, runners can visit runcatalina.com or view the coaching options during the registration process for any upcoming Run Catalina event.
ABOUT SPECTRUM SPORTS MANAGEMENT
A recognized leader in endurance and sporting events in Southern California, Spectrum Sports Management and Timing Services create a wide range of events with over 50 years of collective industry experience. Spectrum Sports Management emphasizes delivering a premier, professional, and world-class service to our clients, our participants, and the communities in which we work.
For more info about Spectrum Sports Management, please see http://www.spectrumsports.net.
For information about Run Catalina, please visit https://www.runcatalina.com