rnnr Partners with Press Forward for PR and Communications Initiatives
February 22, 2023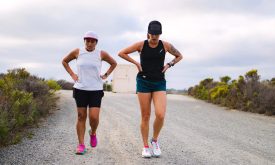 REDLANDS, Calif. (February 22, 2023) /ENDURANCE SPORTSWIRE/ – rnnr and Press Forward PR are thrilled to announce that they're partnering to help bring the brand's hats, apparel, and accessories to runners across the country. rnnr was founded in 2019 by Kate and Justin Arsenault as a brand committed to creating products for people who run for the fun of it—no matter the speed.
"I've been a runner my whole life. I run because of what it does for me mentally and physically but my favorite part is the wonderful places it takes me.," says rnnr co-founder Kate Arsenault. "I want everyone to feel that way and I want rnnr to help them get there, and Press Forward is the best partner to help us reach that goal."
rnnr started by making two five panel hat styles and has since grown to offering a product line that includes five styles of design-driven headwear, apparel, and accessories, most of which feature lively patterns and slogans that embrace the founding values and company slogan of "We don't run for time, we run for a good time." In April 2023 an additional hat style, as well as several new partners in the existing product lines will be released.
Before founding the company Kate was a special education teacher and a track and cross-country coach. Through this work she became passionate about giving anyone who is interested the opportunity to run, regardless of socio-economic status. That's why to this day rnnr donates a portion of the profits from every purchase to give back to the running community.
"We couldn't be happier to be partnering with rnnr," says Press Forward President, Katie Flagg. "We love their brand voice and style, and the product is absolutely terrific. We're looking forward to bringing their story to the media and sharing their brand philosophy with runners across the world."
To learn more about rnnr visit rnnr.com or contact Danny Kuzio at dk@pressforwardpr.com.