RBC GranFondo Whistler innovates annual apparel product line to reduce costs while increasing quality, sales & profits
March 21, 2023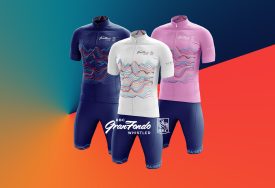 Move to white label and in-house solution bridges demand for high value proposition products
VANCOUVER, BC /ENDURANCE SPORTSWIRE/ – RBC GranFondo Whistler (road cycling) today announced early sales performance following a switch to white label apparel production for 2023. Following multiple years of partnerships with various apparel suppliers, this move has allowed the event company to keep quality high while reducing costs and passing the benefit on to the consumer, ultimately driving profit growth.
"In an economic environment where folks are telling us they're feeling the pinch, we knew we had to offer even greater value than usual this year", said Will Franquet, event director. "The price of our kits have come down meaningfully, in some cases by $85 once all promos are factored in. Of course, we are always judged by people voting with their feet." Sales are up 35% YoY since launch, with customers also spending 120% more per person, aided in part by strong multi-basket deals.
The 2023 kit draws inspiration from the iconic BC coast and was designed by local graphic artist Jonathan Wood. "The From Sea to Sky design theme embodies values that encompass our event, and Jon has done an amazing job of illustrating that" says Neil McKinnon, founder and CEO of RBC GranFondo Whistler. "When it comes to on-bike clothing, people want to look great and feel great. This product line mirrors the qualities of our course: stunning, vibrant, and unforgettable. The new white-label sourcing gives a high-calibre personalized touch, and this kit provides a fantastic opportunity for consumers to realize the best bang for their buck."
Famously protective of the apparel canvas, only the title sponsor RBC (Royal Bank of Canada) and major local cycling supporter The St. Regis Hotel (downtown Vancouver) make it on to the clothing, woven in discreetly to keep the design dominant and away from the sponsor billboard style. "People love to wear these kits year round", added Will Franquet. "When summer rolls around here in BC, it's amazing to see how many riders are enjoying wearing them ahead of the event. We've challenged ourselves to offer Canadian and US shipping throughout the year, increasing the value people get from being able to ride in their new purchases far ahead of the event date".
The 2023 line includes jersey, bibshorts, arm warmers, vest, jacket, accessories and also a range of off-bike t-shirts. To view the range and purchase, fans are encouraged to visit rbcgranfondo.com/shop
ABOUT RBC GRANFONDO WHISTLER
Established following the Vancouver Winter Olympics in 2010, RBC GranFondo Whistler is an award-winning point-to-point cycling event between Vancouver and Whistler, British Columbia, Canada. On average, 5000 cyclists ride each year across different distance categories, both competitive and non-competitive. The event and title sponsor RBC – Royal Bank of Canada – has also contributed over $300,000 to charitable causes since its inception. (rbcgranfondo.com/whistler).
For more information relating to merchandise, please contact Neil McKinnon via neil@rbcgranfondo.com / 604-720-8534
RBC GranFondo Whistler
Media relations – Oli Cartmell oli@rbcgranfondo.com