Race Roster introduces enhancements to Digital Engagement Kits
July 8, 2022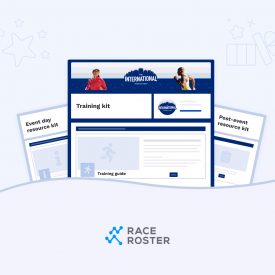 Event organizers are saving time, money, AND trees with this tool.
London, ON (Fri, July 8, 2022) /ENDURANCE SPORTSWIRE/ – Race Roster recently introduced Digital Engagement Kits to the endurance event space, and so far, Race Roster users testing out this tool are seeing positive results.
"We loved using Race Roster's new Digital Engagement Kit at the 41st Annual Fair Oaks Sun Run!" says Chris Mason, Capital Road Race Management. "Instead of printing thousands of postcards and flyers, we shared a digital goodie bag with participants in our post-event email featuring discounts to upcoming events. Many of our race partners saw great results with their digital card, and we were able to save money and reduce waste at the same time! "
For Race Roster users, Digital Engagement Kits have been an ideal tool to accomplish the following:
Adding value for sponsors & partners
Delivering content in an eco-friendly style
Increasing engagement with participants
Going beyond traditional event kits
"By bringing goodie bag items and event resources to a digital format, event organizers using Race Roster are saving time, money, AND trees with Digital Engagement Kits." says Emily Lutz, Senior Product Manager / Design Manager at Race Roster. "While they have been a great goodie bag alternative and sponsorship value add, the usage opportunities for Digital Engagement Kits are endless!"
Digital Engagement Kits provide organizers with immense opportunities to engage with participants at every step of their event journey. Race Roster encourages the use of Digital Engagement Kits for the following:
Soon, Digital Engagement Kits will allow for easy collaboration, giving organizers the ability to invite participants, sponsors, and partners to set up their own cards in a kit. Once content has been submitted, event organizers will be able to review and approve the card content. They will also be able to set submission deadlines and easily access metrics on total views and Call-to-Action clicks. These metrics are great for showcasing the value and impact of Digital Engagement Kits with event sponsors and partners!
Want to learn more?
https://raceroster.com/articles/digital-engagement-kits-update