PTO Unveils Leading Cycling Brand Ekoï As A New PTO Tour Partner
July 5, 2023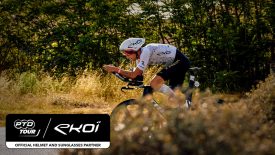 London, UK /ENDURANCE SPORTSWIRE/ – The Professional Triathletes Organisation (PTO) has signed up Ekoï as its first Official Helmet and Sunglasses Partner of the PTO Tour on a new three year deal.
The leading cycling brand will begin its partnership at the PTO US Open in Milwaukee on 4-5 August 2023, before heading to Singapore and the first-ever PTO Asian Open on 19-20 August. As well as onsite activations at all PTO Tour races, the partnership also includes: co-branded merchandise, age grouper competitions and a range of digital marketing and email campaigns.
Commenting on the new partnership, Jean Christophe Rattel, Ekoï CEO said:
"This new partnership agreement with the PTO is a further proof of the brand's attachment to triathlon. It is a great pride for Ekoï and the whole team to be a partner of this organization which will offer worldwide visibility in the discipline."
Ekoï has enjoyed a range of high profile sports partnerships such as Ironman, and has this year signed as a partner of Challenge Roth. It also has ambassador deals with leading PTO Tour stars including: Patrick Lange, Anne Haug, Rudy Von Berg, Freddie Funk and Ben Hoffman.
Responding to the news, Sam Renouf, PTO CEO, said:
"Ekoï is one of the most exciting and respected brands in both the peloton of pro cycling and the front pack of triathlon, we are honored to be announcing them as a long term partner of the PTO Tour. When we were discussing the new partnership, they were immediately drawn to the innovative nature of the PTO Tour and our ambition to make it the leading global triathlon tour. As a supporter already of a number of top PTO professionals, they were also excited about the storytelling opportunities and activity that we could work on together as we look to grow into 2024."
The 2023 PTO Tour started in Ibiza on last month (6 May) with the first-ever PTO European Open delivering two exciting races against a stunning Ibiza backdrop. It now goes to Milwaukee on 4-5 August for the PTO US Open and then onto Singapore for the inaugural PTO Asian Open on 19-20 August. The PTO Tour is broadcast live around the world to 195 territories, courtesy of the PTO Tour's partnerships with Warner Bros. Discovery and a range of other international, regional and local broadcasters including DAZN, beIN Sports and SPOTV.
###
For Further Information
PTO : Anthony Scammell E: Anthony.Scammell@protriathletes.org
Ekoï : Thibaut Labadie : labadie.thibaut@ekoi.com
About the Professional Triathletes Organisation
The PTO is a new body, co-owned by the professional athletes, seeking to elevate and grow the sport of Triathlon and take it to the next level. Each PTO Open is raced over 100km (2km swim, 80km bike and 18km run). The PTO European Open on 6 May kicked off the 2023 PTO Tour and is followed by the PTO US Open in Milwaukee on 4-5 August and then the PTO Asian Open in Singapore on 19-20 August. The season will be underpinned by the new PTO World Rankings, helping to create a compelling season-long narrative in the sport for the first time.
About EKOÏ:
Created in 2001, EKOÏ has quickly become a leading brand in the international market of cycling equipment (road, mountain bike, triathlon). A pioneer in online sales since 2008, EKOÏ has chosen to provide consumers with premium products combining design and technical features, with a very competitive price-quality ratio. Its constant collaboration with professional cyclists and triathletes allows it to offer very innovative ranges, favouring performance.
In 2023, EKOÏ will be present at the biggest triathlon events in the world thanks to the best athletes it equips but also thanks to world-renowned partnerships with Ironman, PTO or Datev Challenge Roth.