Pro Runner Patrick Rizzo Announces His Retirement
February 25, 2020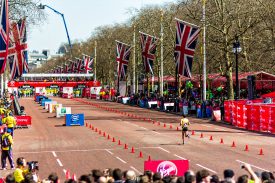 Four-time Olympic Trials Marathon qualifier will run his last race this Saturday in Atlanta
February 25, 2020 – It will all come to an end next Saturday, Leap Day. Patrick Rizzo, one of the most decorated and versatile distance runners in the United States, will run his last professional race at the Olympic Marathon Trials in Atlanta. A testament to his longevity, it will be Rizzo's 4th Olympic Trials race (NYC 2008, Houston 2012, LA 2016, and now Atlanta); a remarkable achievement which solidifies his running legacy. Over his stellar 15-year pro career, the 36-year-old Rizzo notched numerous top 10 finishes at U.S. Championship distances from 8K to the marathon. He earned victories in the half-marathon in major races throughout the U.S. including Denver, Seattle, and his native Chicago. Internationally, he's had top finishes in London (11th), the Ohme 30K in Tokyo (3rd), and in representing the USA at the Pan American Games in Guadalajara, Mexico (8th).  He set his marathon personal best of 2:13:42 at the U.S. Olympic Trials in Houston, finishing 13th.
As recently as this past November, Rizzo finished on the podium at the Rock 'N Roll Half Marathon in Las Vegas and followed that up in December by running 2:17:53 at the California International Marathon in Sacramento. During his career, Rizzo was sponsored by Brooks, Mizuno, and Skechers.
"I've had the privilege of being Patrick's agent for the past 3 years and we have been friends since he started his career here in Michigan with the Hansons – Brooks Distance Project back in 2006," said Chris Mengel of Elite Runner Management. "Coming from North Central College, an NCAA Division 3 school in his native Illinois, Patrick was a fearless runner who was never afraid to compete against the best athletes in the country and the world on the biggest stages. He loved being a pro runner and undoubtedly, will miss it. Frankly, I think we will miss him even more. The sport needs more Rizzos."
Rizzo recently took a job as an account compliance manager with VF Corporation and moved from Colorado Springs to Nashville, Tennessee. He resides in Nashville with his wife, Emily, and their children Judah and Bonnie.