Pressio Launches a Custom Apparel Program for Partners
May 2, 2023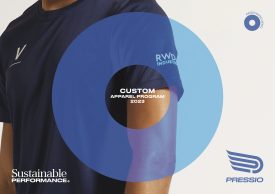 Offering exclusive, sustainable apparel to move the industry forward
Asheville, N.C. (May 2, 2023) /ENDURANCE SPORTSWIRE/ – Pressio, a U.K.-based technical apparel company committed to unparalleled performance and the unwavering pursuit of sustainable procurement, announces its Custom Apparel Program offering fully customizable athletic apparel for retailer and partner needs. The program aims to further the mission of providing world-leading, revolutionary performance apparel built upon an uncompromised ethical and sustainable approach. The program is ideal for Store Branded Merchandise, Staff Apparel, Event Apparel, Team Apparel, Incentive Rewards and more. Each collection in the Custom Apparel Program – including Recon, a groundbreaking biodegradable cotton touch fabric – harnesses quality and sustainability efforts for pinnacle performance.
"We have a vision to change the industry, one tee at a time," said Todd Schoelen, managing director for Pressio USA. "We believe that by offering a better quality tee to the running industry, one that is built sustainably and affordably priced, people will begin to expect and demand more. Transparency is paramount and Pressio is leading that shift."
Partner Exclusives
The Recon Collection features the world's first cotton touch biodegradable cationic fabric for extreme comfort, control and durability. The Bio-Form Soft material was created from USA-sourced technology and has full-biodegradable certification. Retailers and event managers can be the first to offer a cotton touch performance tee that addresses the micro-plastic shedding crisis that is detrimental to our waterways, sea life, and ourselves.
The Sustain Collection uses Elevate fabric made of 100% Recycled Polyester Yarn and packed full of performance and environmental attributes. By Eco-Dying the Elevate fabric, the Sustain Collection contains 70% less chemicals, uses 70% less water, eliminates the possibility of dye in waterways, and reduces micro-shedding. The Event Tee was created to promote a fully sustainable message to athletes and community members at events nationwide by offering a customizable and technical race t-shirt.
Learn more about the Custom Apparel Program here or contact us directly to schedule an appointment with our USA Sales Team. (828) 570-5050 USA@Pressio.com
More about Pressio
Due to an unwavering passion for a more sustainable future, Pressio was founded and introduced to the European markets in 2021 by Jaime Hunt, a founder of 2XU. Pressio was created from its onset to preserve the earth for future generations by being the most sustainable sportswear company in existence.
Pressio recently launched its 2023 line and a U.S. consumer website in March with a full product offering to showcase how their garments have been crafted with the most sustainable materials and technologies available. Pressio is proud to offer next-to-skin comfort, 4-Phase moisture management, 3D ventilation, graduated compression, and end-of-life garment solutions.
About Pressio:
We are and continue to be leaders in sustainable performance. Our garments elevate our athletes just as they redefine what it means to perform, sustainably. We understand that every garment we make has an impact, and we are committed to doing everything we can to minimize, control and reduce these impacts on the environment and in the communities where we live and work. Our commitment to the planet and our partners is setting a new ethical standard in performance apparel. Take the next step at https://pressio.com/us/
Media Contact:
Blue Fire Collective
Erin Brosterhous
970.846.1684
erin@bluefirecollective.com