PitFit Training and Nix Biosensors Team Up with Infinit Nutrition to Create Custom Hydration Products for Race Car Drivers
May 25, 2023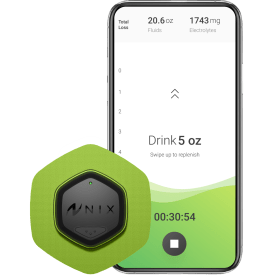 Nix Biosensors will provide sweat profiles of IndyCar and NASCAR drivers to Infinit Nutrition for the creation of custom hydration formulas
BOSTON, MASS /MAY 25, 2023 /ENDURANCE SPORTSWIRE/ – This Sunday marks the start of two of the largest races in motorsports, IndyCar's 107th annual Indy500 and NASCAR's 64th CocaCola 600. Nix Biosensors, in partnership with PitFit Training, the leader in human performance in motorsports, will outfit each of their drivers with sweat-analyzing biosensors to better manage performance under brutal conditions. Drivers and their teams will be able to access highly accurate, personalized, and actionable hydration data, helping to optimize driver performance and safety inside extremely hot vehicle cockpits.
As part of this collaboration, Infinit Nutrition will leverage the insights derived from Nix Biosensors' advanced sweat analytics to create personalized hydration formulations for each participating driver. This groundbreaking integration of data-driven insights will provide information that has been historically unavailable and optimization to motorsport athletes' hydration strategies, ultimately enhancing their performance and overall well-being. "Infinit has been a partner of PitFit for years," says Michael Folan, Infinit CEO. "The addition of the Nix biosensing system allows Infinit to translate each individual's data to create custom blended hydration formulas for the individual drivers"
The strategic partnership between Nix Biosensors and PitFit Training began last summer at the 6th Annual Bommarito Automotive Group 500 IndyCar Series in St. Louis, Missouri and represents a pioneering initiative within the motorsport industry. Heat exhaustion and dehydration are widespread and well-known problems in motorsports. With cockpit temperatures that can reach 122°F, heat-trapping protective gear layers, and unreliable methods of measuring hydration levels, it's no surprise that F1 drivers' body temperatures can rise to 104°F – dangerously higher than the normal core body temperature of 98.6°F.
"Nix's hydration data provides a critical new window into human performance in even the most extreme environments," said Meridith Cass, Nix Biosensors Founder and CEO. "Fluid and electrolyte deficits have a major impact on safety and performance, but without data, athletes are guessing at their needs. This ongoing collaboration exemplifies our shared commitment to enhancing athletic performance and safety through innovative technology."
Nix Biosensors' wearable technology offers a non-invasive and convenient solution for monitoring key biomarkers in an athlete's sweat, providing crucial insights into hydration and electrolyte levels. The integration of this technology within PitFit Training's comprehensive athlete development program reinforces their commitment to utilizing the latest advancements in sports science to optimize performance outcomes.
"As drivers who train with PitFit, we have always received the most groundbreaking information and technology to help increase our performance and improve our safety," said Tony Kanaan, motorsports legend. "As I begin my final days of professional racing, I want my personal data to drive new insights into the sport I love. Partnering with consumer brands like Nix and Infinit will create the products that will improve the performance of drivers going forward."
"This project marks a significant milestone in our continuous pursuit of optimizing performance and well-being for elite motorsport athletes," said Jim Leo, Founder and CEO of PitFit Training. "With Nix Biosensors' cutting-edge technology, we can now analyze and interpret real-time sweat data to provide personalized hydration strategies tailored to each driver's unique physiological needs. We look forward to providing the hydration products created by Infinit using this data to our drivers, and urge drivers outside of PitFit to incorporate these products into their training to increase safety across the sport."
Once the data is received after Sunday's races, one of Infinit Nutrition's team of formulation specialists will begin creating personalized hydration formulations for the different sweat profiles. These unique nutrition solutions will be custom blended and available for drivers at infinitnutrition.us.
###
About Nix Biosensors:
Nix is changing the way humans manage health by empowering consumers to access, understand, and act on their personal biology in real time. Nix's first consumer product is a sweat patch that provides athletes, soldiers, and laborers with hydration data in real-time, helping them optimize safety and performance. Headquartered in Boston, Massachusetts, Nix is founded by CEO Meridith Cass, a graduate of Harvard Business School, former VC, and 9-time marathoner. Advisors include Tom Fowler, Former President of Polar; Dr. Bob Murray, Founder and former Director of the Gatorade Sports Science Institute, and Tatyana McFadden, the 5x Olympian and 17x Medalist. Learn more at nixbiosensors.com.
About PitFit Training
PitFit Training is an industry leader in the development and implementation of motorsports-specific human performance training and lists clients from Formula One, IndyCar, NASCAR, NHRA, ALMS, USAC, the World Endurance Championship and numerous junior level auto racing series. The roster of champions that have become part of the PitFit family is a who's who of auto racing. Drivers such as Scott Dixon and Tony Kanaan are just a few of the many drivers who have trained with PitFit Training. Learn more at pitfit.com.
About Infinit Nutrition
Infinit gives athletes the ability to create their own custom nutrition formulas tailored to their exact specifications. Developed with the patented Osmo-FITTM system, INFINIT hydration mixes are scientifically formulated to be isotonic and easy to digest, even in the most extreme conditions. Products are based on the most current sports science research, and made with the highest quality ingredients, free from artificial colors, sweeteners, and preservatives. Learn more at infinitnutrition.us.
Media Contact
Mackenzie Lynch
360.319.3833