PeopleForBikes President Tim Blumenthal Announces Retirement
June 30, 2020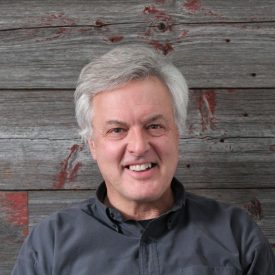 PFB Creates Legacy Fund
BOULDER, CO (June 30, 2020)— After 16 years at the helm of PeopleForBikes and four full decades working in the bike industry, President Tim Blumenthal has announced his retirement. Jenn Dice, the organization's COO and a widely respected U.S. bicycling leader, will become President and CEO on July 1, 2020.
"I feel lucky to have enjoyed so many different opportunities in the world of bicycling," said Blumenthal. "So many people have supported me and inspired my work. I hope to keep contributing because so much more needs to be done to make bicycling better for everyone."
Blumenthal began his remarkable career as a cycling journalist, serving as an editor for VeloNews, Bicycling Magazine and Mountain Bike. He worked as a writer, advisor and commentator for NBC and ABC at seven Summer Olympic Games. He was a commentator for 30 ESPN and Outdoor Life Network telecasts and a writer for 50 network cycling telecasts. Blumenthal became the executive director of the International Mountain Bicycling Association in 1993 and ran the organization for 11 years. He took his current role in 2004 when the organization was called Bikes Belong. It was renamed PeopleForBikes in 2013. Blumenthal has also served on the boards of nearly a dozen national and international cycling associations.
Dice, PeopleForBikes' current chief operating officer, joined the organization in 2013 after more than a decade as a leader at the International Mountain Bicycling Association. Throughout the years Dice has been a leader in the outdoor industry, public lands and conservation space, serving on several boards and national coalitions.
"Tim first hired me at IMBA in 2001 to create the government affairs program for mountain biking and then lured me away seven years ago to do the same thing for the entire bike industry at PeopleForBikes," said Dice. "I've learned so much from his leadership and mentorship. He empowered me to create programs, build teams and we have innovated every step of the way."
Blumenthal said, "Jenn brings unmatched energy and focus to her work each and every day. She's a strong leader, she's bold and she draws on nearly two decades of diverse professional experience and a vast bike industry and advocacy network. Perhaps most important, Jenn's love of bicycling is the rocket fuel that powers her exceptional efforts to boost all types of riding and all bike businesses."
During Blumenthal's tenure, PeopleForBikes grew from two employees to 25, increased its annual budget from $1 million to $10 million, launched the successful PeopleForBikes Foundation and developed a grassroots network of support that includes 1.4 million people.
PeopleForBikes created the Tim Blumenthal Legacy Fund to continue honoring Blumenthal and his dedication to making biking better for everyone during the last 40 years. Donations to the fund will help the PeopleForBikes Foundation address the significant challenges our society currently faces with the solutions that bicycling can offer.
"We should all be grateful to Tim for all he has done to create better places to ride, to bring disparate communities together around common goals and to set an example of what leadership looks like," said Chris Speyer, vice president of merchandising product and co-op brands at REI, who was recently elected as the chairman of the PeopleForBikes Coalition board. "He has been a mentor of mine, and I feel honored to partner with Jenn Dice and the PeopleForBikes team to support and advance the amazing foundation he has laid. Thanks for everything, Tim."
About PeopleForBikes
PeopleForBikes is making biking better for everyone by uniting millions of individuals, thousands of businesses and hundreds of communities. When people ride bikes, great things happen. Join us at PeopleForBikes.org.