PEARL iZUMi's New Ten Spot Collection Pays Tribute to the Grateful Dead's 1981 10-Day Tour Through Colorado
October 23, 2022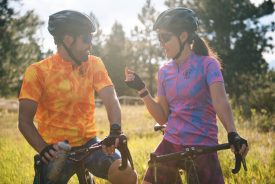 LOUISVILLE, Colo. (Oct 23, 2022) /ENDURANCE SPORTSWIRE/ – In 1981, the Grateful Dead played a 10-day tour in Colorado that culminated with an unforgettable concert at the CU Events Center in Boulder on December 9. PEARL iZUMi's new Ten Spot collection celebrates that tour with a colorful tie-dyed theme across 10 PEARL iZUMi custom products including cycling jerseys, bibs, socks, and water bottles.
To create the collection, PEARL iZUMi's in-house designer, Lucas Marshall, used high-visibility colors and harmonized them with the band's bright and colorful music. The collection also incorporates the artwork created for "Dave's Picks Vol. 20" recording of the show in Boulder. Included in the collection are PEARL iZUMi's leading styles: the men's and women's PRO Bib Shorts ($185), men's and women's Classic Jersey ($85), men's and women's PRO Tall Sock ($25), men's and women's Midland Graphic Tee ($45), a water bottle ($12) and a junior Quest Jersey ($45).
"This Grateful Dead Ten Spot Collection is highlighted by the collision of visually striking colors with iconic tie-dye patterning, bringing the classic aesthetic to the streets and the trails," said Marshall. "There really isn't a more fitting subject for tie-dye than the Grateful Dead. It's the perfect splash of patterning and color to pay homage to the band's time jamming here in Colorado."
The 10 Spot Collection is available exclusively online at www.pearlizumi.com/collections/grateful-dead.
About PEARL iZUMi:
PEARL iZUMi was founded on two things: the love of cycling and, more importantly, love for future generations. The brand originated more than 70 years ago in Japan when the founder created a special jersey out of technical fabric for his son, an aspiring bike racer. Since then, the company has been progressing the design and manufacture of performance apparel and footwear for cyclists of all levels. PEARL iZUMi believes that how we live shapes how future generations ride and is committed to using its business practices, products, and community advocacy to positively impact cycling. PEARL iZUMi's world headquarters are in the Colorado Front Range, where it embraces strong influence, both culturally and structurally, from its Japanese heritage.
About the GRATEFUL DEAD:
The Grateful Dead is a social and musical phenomenon that grew into a genuine American treasure. In 1965, an entire generation was linked together by common ideals, gathering by the hundreds and thousands. This movement created a seamless connection between the band and its fans. As the band toured, Dead Heads would follow. Not because it was a part of popular culture, but because it is a true counterculture that exists to this very day-one that earnestly believes in the value of its beliefs. By 1995, the Grateful Dead had attracted the most concert goers in the history of the music business, and today remain one of the all-time leaders in concert ticket sales. Eventually, the caravan evolved into a community with various artists, craftsmen and entrepreneurs supplying a growing demand for merchandise that connected them to the music. Today, the connection is as strong as ever. The band was inducted into the Rock & Roll Hall of Fame in 1994 and received a Grammy® Lifetime Achievement Award in 2007. Their final tally of 2,318 total concerts remains a world record. The Grateful Dead recently celebrated their 52nd top 40 album on the Billboard chart, a feat no other group has achieved