Panaracer and BUCK!T Announce Collaboration
October 5, 2021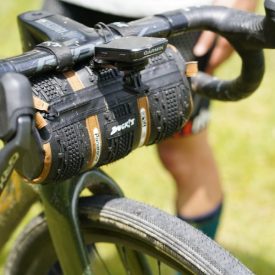 OSAKA, JAPAN (October 5, 2021) — Panaracer Corporation of Osaka Japan and BUCK!T bags of Girona, Spain are collaborating on a handlebar and saddle bag produced using factory rejected Panaracer Gravelking tires. Both bags have lined interiors and are highly water resistant – reflecting the quality that the BUCK!T brand consistently offers. The Panaracer hotpatch is visible so it's a great way to show your favorite tire brand off the rim. In short, it's a stylish, durable, environmentally-friendly solution for cyclists to carry their riding essentials.
Jeff Zell, Global Go-To Guy at Panaracer says, "We've admired Buck!T bags and their repurposing tires from a design standpoint as well as a sustainability perspective. The bags are sewn in limited quantities by hand to ensure excellent quality control and a one-off vibe falls in line with Panaracer's quality ethos."
Craig Northam, founder and owner of BUCK!T adds, "Our collaboration with Panaracer using upcycled tires makes so much sense on many levels. Keeping tires "on the road" that would otherwise be unusable nor recyclable is a win-win for cyclists and the planet."
Look for BUCK!T bags exclusively on the Panaracer US and Japan websites now.
For more information contact jeffz@panaracer.com.
– ### –
About Panaracer
Founded in 1952, Panaracer has been producing high-quality bicycle tires and accessories for over 70 years for every category of cyclists and bicycles. It's the unique combination of technical expertise, thoughtful materials, and Japanese craftsmanship that makes Panaracer tires unique in the world. www.panaracerusa.com
About BUCK!T
BUCK!T was born in 2012 when former architect Craig combined his passion for design and sustainability with his love of cycling. Craig saw an opportunity to create hand-made products using up-cycled materials for a growing market of consumers looking for sustainability produced cycling accessories. www.buckitbelts.com