Over 700 racers at GFNY Florida Sebring endurance sports weekend
October 25, 2023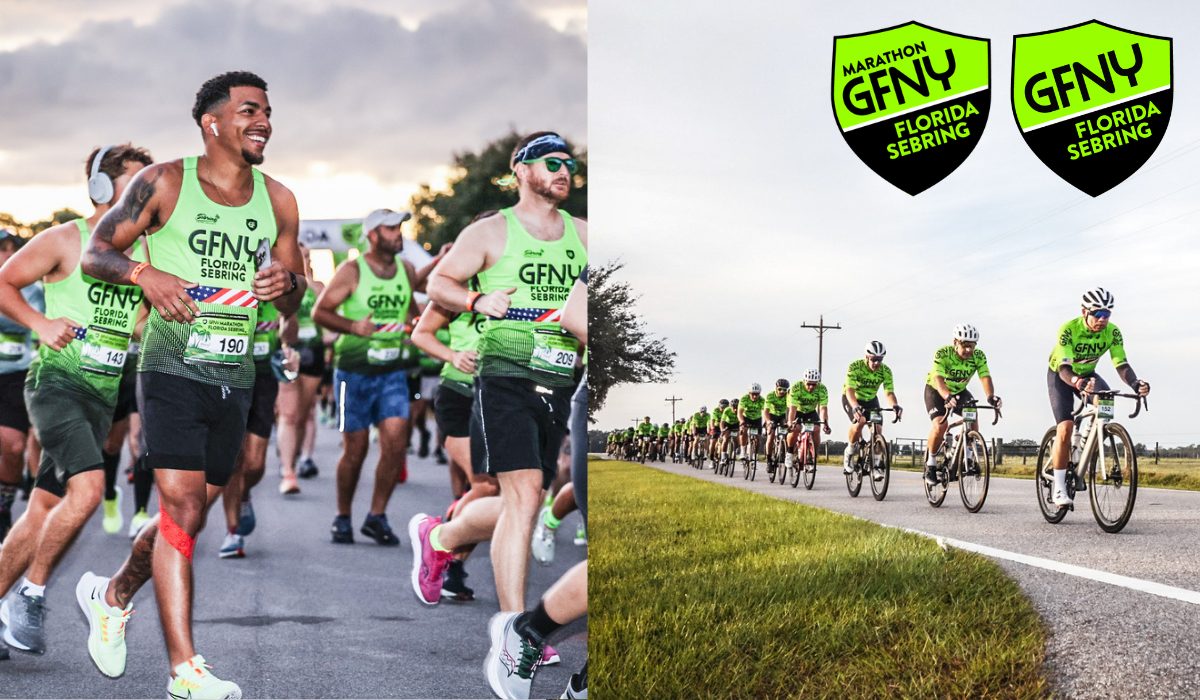 3rd GFNY Marathon Florida Sebring and 4th GFNY Florida Sebring cycling race took place last Sunday
/ENDURANCE SPORTSWIRE/ – The 3rd GFNY Marathon Florida Sebring offered runners a full and half marathon. Start and finish took place at the Barn at Paso Fino.
In the marathon, Blair Hastings (United Kingdom) took the win in 03:02:06 under the Floridian sun, followed by Ecuadorian Pablo Quiroz and Aldo Ponce (USA). In the women's marathon, Jennifer Loza (USA) dominated in 03:29:21 ahead of Brazilians Vivian Sanchez and Maria de Fa Oliveira.
Website: floridamarathon.gfny.com
GFNY Florida Sebring cycling race
The 95-mile cycling long course of the 4th GFNY Florida Sebring makes the race Florida's hardest bike race.
A peloton of close to 100 riders stuck together through the first of two loops but at the opening of the second loop, attacks made the race hard and fast. After hectic and aggressive racing for ten minutes with a strung out peloton, four riders got away. Former Olympian and ex-pro Luis Lemus (Team GFNY/Mexico) was the one who seemed the most keen to make a break. After flattening at GFNY Sebring last year, he was determined to take the win this time.
The four were soon joined by four more riders. The lead group consisted of Lemus, Gary Hand and David Lines (both Team Espresso Cycling/UK), Jonatan Ogando and Lucas Zuleta (both Team Thirsty/Ecuador), Edwin Morel (Team Talent Cycles/USA) and GFNY Puerto Rico champion Felipe Aros (Chile). They worked together well and quickly created a gap of over five minutes with the peloton seemingly giving up hope for a podium result.
With 20 miles to go, those in the lead group not as confident in their sprint tried to get away – to no avail. In the eight man sprint to the finish line, Ogando took the win in 3:37:22 followed by Morel and Lemus.
The female race was decided within the mass sprint of the 55 rider peloton: Yennifer Torres (Team Miami Sprint Cycling/USA) won in 3:44:40, followed by Yury Beltran (Team OMG/USA) and Debora Finger (Brazil).
Website: florida.gfny.com
About GFNY Global Endurance Sports Series
GFNY Global Endurance Sports Series is a sports event company with three decades of experience in racing, planning and organizing events. The global endurance sports brand hosts multiple events throughout the year around the world on five continents.
Working with partners around the world to deliver a first-class experience, GFNY Global Endurance Sports Series puts its athletes first.
The official GFNY website is: gfny.com.
Cycling
30-plus events held around the world. View the latest calendar here
Riders get to BE A PRO FOR A DAY ® by competing against others, themselves and the clock in a personal endurance challenge.
Top 10% (20% at regional championships) of finishers in each age group qualify for the Elite Qualifier Corral at every GFNY World event.
GFNY World Championship NYC
The 12th annual GFNY World Championship New York will be held on May 19, 2024. The race features the world's most international peloton with riders from over 90 countries. Athletes take on a challenging route to compete against each other, the clock and themselves in a personal endurance challenge.
The official GFNY World Championship NYC website is: nyc.gfny.com.
Further Material for Media Use
Official GFNY Marathon Florida video: here
Official GFNY Florida Sebring video: here
GFNY Press Images: here
GFNY Results: here
GFNY World calendar graphic: here
Previous GFNY press releases: here
Media Contact
Gran Fondo New York Inc.
Uli Fluhme, uli@gfny.com
Caroline Lindsay, caroline@gfny.com