Over 3,000 to Run Santa Barbara Half presented by HOKA & SB Independent 5K
November 1, 2022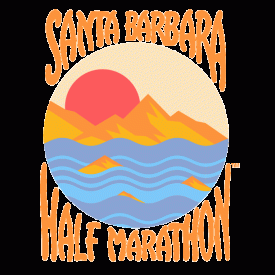 Race weekend kicks off Friday, November 4 and culminates with the Funk Zone Finish Line Festival on Sunday morning; event supports Santa Barbara Running Association's youth programs; over 200 kids set to participate in the free HOKA Kids Run
Santa Barbara, Calif. (November 1, 2022) /ENDURANCE SPORTSWIRE/ – Over 3,000 participants from throughout California, 39 states and seven countries are set to toe the line for the 2022 Santa Barbara Half presented by HOKA & SB Independent 5K on Sunday, November 6. The event, in its second year, is once again supporting the Santa Barbara Running Association's youth programs having donated over $15,000 to various organizations in 2021.
The weekend of events will begin on Friday, November 4 with a special two-day Funk Zone Packet Pick-Up for event participants in the parking lot of Rincon Brewery, Dart Coffee & Mollusk Surf.
Then on Sunday morning, race day festivities will begin near State St. & Yanonali St. with the Half Marathon (13.1 miles) event starting at 7:00am followed by the 5K (3.1 miles) at 8:15am. Runners will toe the line on State Street in the Funk Zone and head out to enjoy the picturesque American Riviera waterfront before heading into Santa Barbara's historic downtown, including a fast, downhill finish on the State Street promenade.
"In just our second year we have seen the event grow to become a major Half Marathon in Southern California thanks to all of our partners and the community at large," commented local Race Director, David Monico. "While we all come together for a short window of time, these events represent inspiring milestones in our participants lives that started months, if not years ago, and will be fueled from start to finish by their friends, family and 200-plus community volunteers that bring the event to life for them".
Motivating music will be provided by local DJs, including Santa Barbara Independent's DJ of the Year, DJ Darla Bea, Elite Disc Jockeys, the Gaucho Pep Band, Glendessary Jam Band and the Ewe Drumming Project.
Upon finishing, runners will be greeted with high fives from local volunteers, be presented their hard earned medals and then can enjoy the Funk Zone Finish Line Festival featuring the HOKA Lounge, the Figueroa Mountain Beer Garden, live music from The Last Decade and a recovery area including local businesses such as Titan Sports Performance.
Top three award winners in the Half Marathon will receive one-of-a-kind, engraved red roof tiles inspired by the local architecture of the region thanks to Action Roofing and Tri-Valley Trophies.
The HOKA Kids Run will take place near the Half Marathon and 5K starting lines at 10:00am. Kids will enjoy a fun, untimed race, receive the official event medal and enjoy snacks thanks to local grocer Lazy Acres, a free scoop redeemable at McConnell's Fine Ice Creams and water bottles courtesy of the Santa Ynez Band of Chumash Indians. A Kids Zone in the festival will also include experiences from MOXI and local culinary non-profit, Apples to Zucchini.
Registration is still available. Visit www.santabarbarahalf.com to learn more.
About Run Local
Since 2012, Run Local has brought locally produced events to the San Francisco Bay Area and Santa Barbara celebrating its runners, artists, and the unique diversity of each region. For more information, visit RunLocalEvents.com and join us on social @RunLocalEvents.