OutThere USA Partners with Adventure Racing World Series
September 8, 2023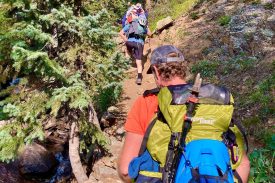 OutThere USA's backpacks, created by World Champion adventure racer Mike Kloser, are designed to meet the demands and needs of the sport.
/ENDURANCE SPORTSWIRE/ – A backpack is a fundamental piece of equipment in Adventure Racing. It carries a variety of gear for sections of the race, from climbing harnesses and carabiners to mountain bike spares and crampons. Together with cold-weather gear, personal care, foot care and first aid kits, bivvy bags, and sufficient water and food, a racer's backpack is usually stuffed full, especially for expedition-length events like those in the Adventure Racing World Series.
OutThere USA's backpacks, created by World Champion adventure racer Mike Kloser, are designed to meet the demands and needs of the sport.
Mike Kloser's roll of Adventure Racing accomplishments, in addition to those in mountain biking, orienteering, pentathlon and other disciplines, demonstrates his excellence in endurance events. With multiple wins at the Adventure Racing World Championships, Eco Challenge and Primal Quest, Mike has used a variety of backpacks at races over the years.
After spending more than a decade helping big-name brands to design packs for Adventure Racing, Mike started his own range, launching OutThere USA backpacks. The range includes a feature-rich hip pack, a done-in-a-day 15-litre backpack, an adventure racing 30-litre pack and an ultralight 45-litre model with an internal frame for hikers and backpackers.
"I also drew input from other users, athletes, and racers to develop and improve the packs over the course of years, which has been about 10 years now since I started the company," Mike says.
Mike's OutThere USA packs are designed to be multipurpose and functional. Adjustable shoulder straps and waist belts ensure a good fit to a wide range of men's and women's body sizes. They are also designed to carry weight comfortably and to ventilate as much as reasonably possible for a pack that is strapped to your back.
"Our packs are also designed to be utilised without taking your pack off to access most of your gear," Mike explains. "Whether you reach into the hip-belt pockets, the shoulder-strap pockets or a team member accesses the external mesh and nylon pockets for you, our packs are functional while you are moving."
The pockets are designed in size, shape and location to be practical for the type of gear they can carry, which is very important for adventure racing considering the different disciplines and type of gear supplies one needs.
For multi-day adventure races, Mike recommends their WC-30 30-litre Backpack for men and women (WC stands for 'World Championship'). It is an update from the race-tested, limited-edition Fiji 30-litre model. The WC-30 is constructed from the same durable materials but sports new YKK buckles and smoother zippers.
When packing your backpack, Mike recommends finding a practical or preferred place on the pack to store certain things that you want to have very accessible. The pockets on the shoulder straps and hip belt are great for storing items like headlamps, gels, snacks, lip balm, and water treatment tablets.
"You want to put the gear that you are not going to really need to access until you stop – maybe for a transition – in the main compartment. There are a lot of accessible zipper and stuff pockets around the pack – on the lid or front where you have sleeve pockets and of course the mesh pockets on the external part of the pack – for items that you need to access on the go. The stowaway helmet fly can be used for all kinds of other things, like attaching your PFD or climbing harness."
"Once you figure out where you like your items best, stick to that," Mike recommends.
For the new teams approaching expedition racing, this multiple World Championship winner offers solid counsel.
"Make sure you have a compatible team where you can work together and race together for days on end without being at each other at throats. Set realistic goals in line with each other so that you are not crushing someone's expectations going in. Lastly, pace yourself. Don't go out of the gates full gas. Be able to go as fast at the end as the beginning," Mike advises.
With more than 25 years in the sport of Adventure Racing, Mike is pleased to see the World Series continue to grow.
"Heidi and her team have been a huge factor in uniting so many nations. Participation from the different countries as well as the board members will take ARWS forward a long way into the future."
Looking ahead at the fast-approaching AR World Championship event in October in South Africa, Mike describes World Championship events as the culmination of the season.
"It is the biggest one-off event in the world of Adventure Racing and if you have ever been a World Champion, it is something you remember for many, many years. The sponsors and other athletes in the field look up to the World Champs and top finishers who embody the experience and athletic talent in our sport."
Mike has invested a good 30 years into the sport of Adventure Racing, as a competitor and now with his business.
"I have one of Mike's first OutThere USA backpacks, which I am still using after almost 10 years," says Heidi Muller, CEO of Adventure Racing World Series.
"Mike Kloser and OutThere USA are synonymous with Adventure Racing and it is wonderful for AR World Series to have someone with Mike's history and background involved. We value his input and expertise," Heidi adds.
Through this partnership, AR World Series showcases the OutThere USA products to racers in other countries and the next generation coming into the sport.
"I'm excited for OutThere USA to be a partner to the AR World Series," Mike says. "Being involved motivates me to keep evolving pack design to carry our products into the future and to be a part of the Series for many years to come."
Explore OutThere USA's range of products on their website at outthereusa.com and visit them on Facebook and Instagram @OutThereUSA
The Adventure Racing World Series brings together premier adventure races from around the word to create a competitive series of Qualifier events that culminate in an annual Adventure Racing World Championship. Events can be followed online through reports, videos, images and live GPS tracking through the ARWS website and social media.
Learn more about the Adventure Racing World Series, its Regional and Qualifier events and the Adventure Racing World Championship on arworldseries.com