OOFOS Adds Telecom and Tech Industry Veteran John Legere to Board of Directors
May 16, 2023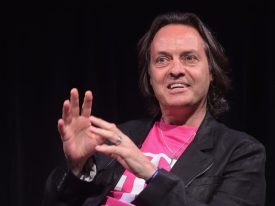 Braintree, MA – May 16, 2023/ENDURANCE SPORTSWIRE/ – OOFOS, the global leader in Active Recovery footwear, announced today that John Legere has been named to the company's board of directors. Legere has a formidable track record as an innovative leader who uses unconventional methods to guide teams, individuals, and global corporations to their fullest potential.
Legere brings more than 40 years of experience in the global telecommunications and technology industries to OOFOS. He most recently served as CEO of T-Mobile for eight years and successfully drove the company through a powerful list of achievements: T-Mobile became the fastest network in America; won numerous Best Place to Work awards and accolades; received top J.D. Power Customer Service awards year after year; and successfully brought T-Mobile through a two-year approval process to merge with Sprint. John was also consistently voted a top CEO across America and across all industries.
A stand-out runner in college at the University of Massachusetts, John has run several Boston Marathons and understands the need for Active Recovery to maintain his passion for running over the years.
"We are thrilled to welcome John Legere to our OOfamily," says Lou Panaccione, Founder and CEO of OOFOS. "This is a time of great momentum for our brand. John's history of growing businesses will help us continue to build OOFOS globally and position the company for success. Most importantly though, John's character and reputation fit our brand values and we look forward to working together to bring our incredible 'make yOO feel better' OOfoam™ technology to more people around the world."
In addition to John's numerous corporate accomplishments, he currently sits on the board of the Dana-Farber Cancer Institute, an organization that is near and dear to OOFOS. The brand has been dedicated to supporting cancer research and patient care since 2014, when one of the company's first employees, Duncan Finigan, was diagnosed with stage IV breast cancer. In 2015, the brand began Project Pink as a way to support Duncan through her four-year battle with the illness and to keep her memory alive following her passing in 2019. Project Pink is focused on giving back Dana-Farber and the Jimmy Fund, donating more than $3.4 million since the inception of the program.
John joins footwear industry veterans Lou Panaccione and Paul Brown, co-founders of OOFOS, Timothy Davis, Michael Harrison and Thomas Wolff, on OOFOS' board of directors.
About OOFOS
OOFOS is the global leader in recovery footwear, founded by a team of industry veterans looking to help runners and fitness enthusiasts recover better from their workouts. Made with revolutionary OOfoam™ technology, OOFOS are designed to absorb 37% more impact than traditional footwear. They reduce stress on joints to keep anyone, of any activity level, feeling their best. From professional athletes to casual walkers, OOFOS footwear will make your hard-working feet and body feel better – all you have to do is feel the OO. For more information, go to www.oofos.com.
###