OKAI Debuts Its Highest-Performing E-Scooter, the OKAI Neon Pro, Under Manhattan's Spotlight
November 10, 2022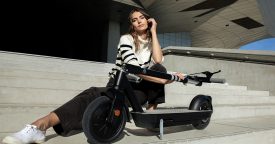 POMONA, CA /ENDURANCE SPORTSWIRE/ – OKAI, a global leader in the manufacturing of e-scooters and e-bikes, announces the release of the OKAI Neon Pro, the best-performing, longest-range and most powerful e-scooter in its popular Neon series. With top-notch PROgrammable safety LED lighting and other remarkable features, the OKAI Neon Pro delivers a sustainable yet stylish urban commuting solution for riders who seek to reduce both their carbon footprints and transportation costs.
The OKAI Neon Pro offers the best in performance, safety, and style:
Up to 50-mile long range, 20 mph top speed and 700-watt max power
One-click patented folding system
Front and bottom customizable LED safety light bars
10-inch high-elastic vacuum tires
Aircraft-grade aluminum frame
Two ways to start: APP Bluetooth/ NFC
Waterproof grade: IP55 (vehicle)
Jack Gillin, OKAI North America's Senior Director of Business Growth, says, "OKAI is setting the bar for the whole e-mobility industry with our NEON Series, and in particular with the new NEON Pro. The NEON Pro goes further, faster and is less expensive than any comparable e-scooter, and it has the most robust safety system on the market. Its portability also allows for easy switching to and from public transportation."
"OKAI has commissioned an advertising campaign in Soho, Manhattan and Union Square Metro Stations to promote the NEON Pro to fast-paced New Yorkers, who are a prime example of the type of daily commuters for whom the OKAI Neon Pro is a perfect solution."
Jiangtao Lu, CEO of OKAI states, "OKAI's stellar product development, manufacturing, and supply chain management have allowed us to achieve a dominant presence in the sharing industry. Now we are more than ever committed to closing the "first and last mile" transportation gaps with our world-class micro-mobility solutions, especially for consumers who want to have their own e-scooters post pandemic. The OKAI Neon Pro empowers people everywhere to navigate their communities in ways that are reliable, fun, and eco-friendly."
OKAI is dedicated to bringing safe and smart e-scooters and e-bikes to everyone. OKAI officially introduced itself to the American consumer market at the 2022 CES show held in Las Vegas. In the first half of 2022, OKAI hit the e-bike market with the launches of the OKAI Stride, a commuter e-bike and the OKAI Ranger, a fat-tire e-bike. Now, with the OKAI Neon Pro, the company continues its commitment to creating innovative micro-transportation solutions.
The OKAI Neon Pro is now available for $849 plus tax through the Best Buy website in the United States and Canada, at major retailer stores, and at select OKAI partner dealers. North American retailers and dealers may contact OKAI Inc. for all sales inquiries at sales.us@OKAI.co.
 About OKAI
OKAI has a rich tradition of delivering top-notch micro-mobility solutions with a multinational team of more than 11 years of experience serving the industry. Thanks to exceptional capabilities in designing, R&D, manufacturing, quality assurance, testing and customer service, OKAI has built a commanding market presence in Europe and North America as one of the world's largest e-scooter and e-bike sharing service providers. OKAI is here to impact your life, not your carbon footprint.
Further information upon media inquiry: Ruth@OKAI.co
Business opportunity and partnership: Sales.us@OKAI.co
Available at Best Buy now:  https://www.bestbuy.com/site/okai-neon-pro-foldable-electric-scooter-w-50-miles-max-operating-range-20-mph-max-speed-ambient-safety-light-black/6522553.p?skuId=6522553
Available at Amazon now:  https://www.amazon.com/OKAI-Electric-Long-Range-Commuter-Certified/dp/B0BFGRYJYL/ref=sr_1_1_sspa?keywords=okai+neon+pro&qid=1668066026&sr=8-1-spons&psc=1
OKAI NEON PRO CERTIFICATION:
The entire vehicle complies with UL2272, CPSC 16 CFR 1303, FCC SDOC, Prop 65 Test Report
***