Official Electrolit Sponsorship Fuels Basketball Prodigy Tristan Jass's Athletic Triumphs
August 31, 2023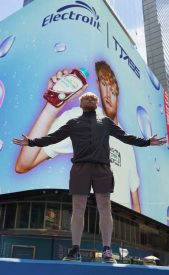 Electrolit, the preferred premium hydration beverage, joins forces with basketball point guard player and internet sensation, Tristan Jass
Houston, TX. (Aug 31, 2023) /ENDURANCE SPORTSWIRE/ – Electrolit – the preferred, premium hydration beverage made from pharmaceutical quality grade ingredients – announces its official hydration partnership with renowned basketball influencer and respected athlete, Tristan Jass, who has amassed a combined six million following across his social platforms.
"I'm excited to partner with Electrolit," said Tristan Jass. "Hydration is of course super important to my performance, but they also share my passion for elevating basketball and supporting individuals to excel in their pursuits. Together, we're going to push the boundaries of what's possible on the court."
In moments of performance or when Tristan is perfecting his next skill on the court, Electrolit's instant hydration supports his focus and performance. Scientifically formulated with magnesium, sodium, potassium, calcium, and glucose, Electrolit provides balanced hydration when electrolytes and ions are low to replenish the body.
Tristan first began posting basketball extreme layup videos on Instagram in 2014 and caught the attention of ESPN, which led to his large following. Beyond basketball videos, Tristan has launched his own online clothing company and is an active advocate for the non-profit Buckets Over Bullying.
"Championing sports performance is at our core, and our product delivers premium hydration to help athletes reach the pinnacle of their play," said Jake Sloan, Sr. Marketing Director of Electrolit USA. "Tristan tends to set the standard of what's possible at the basket and is well respected amongst others who push boundaries in the sport. It's only fitting that we support someone who's raising the bar to redefine the benchmarks of basketball."
Electrolit can also be purchased at Walmart, Kroger, HEB, Jewel-Osco, Circle K, 7-Eleven and more, and through online channels. For more information, visit www.electrolit.com or follow them on Instagram or Facebook.
About Electrolit
Electrolit manufactures a scientifically formulated premium hydration beverage that replenishes the body after physical activity, intense heat, or a night of partying. Founded in Mexico in 1950, since, Electrolit has become revered by athletes & partygoers alike as a recovery drink. Formulated with magnesium, potassium, calcium, sodium glucose, and sodium lactate plus six ions for electrolyte absorption, Electrolit aids in the recovery of the hydro electrolytic imbalance, fulfilling metabolic and hydration needs. Available in 15 delicious flavors, Electrolit is currently offered in national, grocery, convenience and online channels across the nation, including Walmart, Kroger, Jewel-Osco, 7-11 and more. Electrolit is manufactured and owned by Pisa Pharmaceuticals, the largest pharmaceutical company in Mexico and Latin America.
###
Media Contact
Matt Kovacs
mkovacs@blazepr.com