Offering Boston Marathon Hotel Accommodations Since 1981
June 1, 2022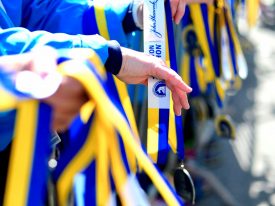 2023 Boston Marathon Hotel Reservations Open June 1 at 12:00PM ET
Boston, MA (June 1, 2022) /ENDURANCE SPORTSWIRE/ – Marathon Tours & Travel (MTT) is the Exclusive Domestic Travel and Accommodations Booking Agency for the Boston Marathon, and secures hotel rooms around the Boston metropolitan area for the weekend events. MTT's relationship with the Boston Athletic Association (B.A.A.) began 41 years ago in 1981.
"We are proud and honored to be the only B.A.A. Boston Marathon official and licensed provider offering discounted hotel rooms for runners and their companions. We also host the official marathon course tour during the weekend, offer a VIP Package for runners who enjoy additional perks and manage large hotel room blocks for international tour operators around the globe," stated Thom Gilligan, MTT CEO and Founder.
Runners, family and friends have a choice of more than 35 hotels throughout the Boston metropolitan area. Rates on average are 15-40% lower than online rates. A limited number of spaces are also available for MTT's VIP Package, which opens in mid-June. This package offers special features to enhance the runner's Boston Marathon weekend experience, such as a welcome reception, pre-race dinner with a special guest speaker and a private coach bus to Hopkinton from the host hotel.
The official Boston Marathon Course Tour gives participants a birds-eye view of what they will run on Marathon Monday. This is offered on Saturday and Sunday with both days selling out quickly. Online reservations will begin in July and is open to all.
The 127th Boston Marathon will take place on April 17, 2023 and is the world's oldest consecutively run marathon. This year, the race had 25,230 participants start the marathon with more than 6,200 runners traveling from 99 countries outside the U.S. Under MTT's International Tour Operator program, many of the international athletes had accommodations arranged by MTT as well.
To book accommodations and for additional information go here. Reservations accepted starting on Wednesday, June 1 at 12:00PM ET. Hotel selection is on a first-come, first-served basis.
About Marathon Tours & Travel (MTT)
Founded in 1979, Marathon Tours & Travel (MTT) is one of the first global companies to specialize in travel services specifically for runners. Located in Boston, the home of the world's oldest marathon, MTT is the official North American travel agency for many of the world's most popular running events including the BAA Boston Marathon, TCS London Marathon, TCS New York City Marathon, Antarctica Marathon® and many others. More information is available on www.marathontours.com.
In 1995, MTT created the Antarctica Marathon® & Half-Marathon, which generated a new genre of adventure runs. The Antarctica events enabled runners to set and reach the once unthinkable goal of finishing a marathon or half-marathon on all seven continents. Pursuantly, the Seven Continents Club® was formed to recognize these runners and to offer special VIP services to international globetrotting distance runners.
###