Next-generation marketing and communications platform for endurance events partners with Broken Arrow SkyRace
June 12, 2023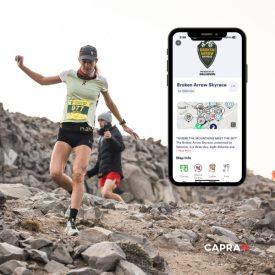 Capra partners with Broken Arrow SkyRace
/ENDURANCE SPORTSWIRE/ – Capra is thrilled to announce their partnership with their first US race outside of Australia and New Zealand, Broken Arrow SkyRace in Palisades Tahoe that is taking place this week on June 16-18 (US).
With Capra's innovative mobile-first platform, Broken Arrow SKyRace race directors and event managers are enhancing the overall race experience for participants, while effectively managing staff and showcasing event partners and the destination.
Capra Co-Founder, Matty Abel, expressed his excitement about the partnership, saying, "We are honored to be collaborating with Broken Arrow SkyRace. Capra is providing race directors with a powerful tool to deliver crucial information, engage participants, and create an unforgettable experience for everyone involved. We look forward to enabling a seamless and engaging race experience for Broken Arrow SkyRace participants and supporting the growth of endurance events worldwide."
Capra empowers race organizers to share real-time updates, race information, and engaging content directly to participants' mobile devices. The platform streamlines communication, reduces logistical challenges, and ensures that participants have access to all the necessary details about the race. Moreover, Capra's integration capabilities enable race organizers to showcase event partners and promote local destinations, enhancing the overall event experience for participants and spectators.
With this partnership, Capra continues to establish itself as a leading platform for endurance events, revolutionizing the way race directors and event managers communicate with participants and foster community engagement.
For more information about Capra, please contact:
Henry Talbot
henry@capra.app
About Capra
Capra is a next-generation marketing and communications platform designed specifically for endurance events and their communities. With a mobile-first approach, Capra provides race directors and event managers with a comprehensive solution to streamline communication, engage participants, and showcase event partners and destinations. By delivering crucial information directly to participants' mobile devices, Capra revolutionizes the race experience, making it more seamless, interactive, and memorable. For more information, please visit Capra.App