Newly born EvoData chooses MYLAPS to offer best-in-class sports timing
June 20, 2023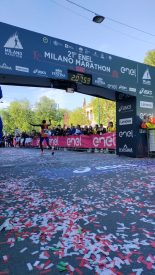 MILANO / HAARLEM (20 June, 2023) /ENDURANCE SPORTSWIRE/ – EvoData, the newly born timing and data solution provider after the merge of 4 Italian timing companies, partners up with MYLAPS to offer best-in-class sports experiences to event organizers and their participants and fans. Both parties signed a long-term agreement for multiple years.
EvoData offers timing & data services to multiple mass running (like Milano and Rome marathon) and mass cycling events in Italy. Next to that the company times international UCI and UEC cycling races. EvoData was founded in March 2023: OTC, SDAM, WinningTime and TDS, the four most important Italian timing companies, joined forces to offer a wider range of products and services in the world of timing and data management of sporting events. All founding companies are equally involved in EvoData, resulting in a team of unparalleled experience in European sports timing.
BibTag and ProChip technology – the standard in sports timing
Founded in 1982, MYLAPS is the inventor of automatic sports timing and develops technology that is used all over the world, from the Olympics, major marathons and NASCAR to countless local races. To offer state of the art timing services, EvoData relies on the proven BibTag and ProChip technology. BibTag is the standard timing system suitable for mass events with affordable chips and the highest read-rates in the industry. ThinTags are 75% thinner than regular tags. This results in less waste and less shipment space, which has a positive impact on carbon emissions during transport. ProChip is the active timing system for high-speed sports with an accuracy up to 0.003 second. These durable chips are reusable, so event organizers can save on waste.
Partnership with global leader in sports timing
'We are thrilled to work together with the global leader in sports timing', says Stefano Larghi, CEO at EvoData. 'After our merge we wanted to work with one timing supplier that could offer the most reliable and easy-to-use timing solutions. SDAM and OTC have worked together with MYLAPS for many years, so we know all benefits of MYLAPS technology. We can't wait to start offering premium chip and transponder timing to all our sports events, athletes and fans.'
Creating the ultimate sports experience
Mike Terpstra, Team lead Active Sports at MYLAPS EMEA: 'At MYLAPS we strive to offer the ultimate sports experience to athletes, followers and events. With the knowledge of the founders, we are sure that EvoData will grow, which means that more events will benefit from the latest developments in sports timing. We are excited to work together in the coming years.'
EvoData provides services to both professional and amateur events, including timing & data processing, TV graphics, registration / accreditation, race numbers printing, GPS tracking, database marketing and photo/video production with over 20 years of experience on international events, combined with the best hardware and software technologies, make EvoData one of the major players in the industry worldwide.
OUR NUMBERS:
1.5k+ Sport events
1m+ Timed athletes
200+ Collaborators
10 Corporate offices
At MYLAPS we support racers, athletes, and events in creating their ultimate sports experience. Every year we capture the performance of over 20 million people all over the world. We develop accurate, reliable, and easy-to-use technology to turn data into insights, progress, and fun. Founded in 1982, we have revolutionized the world of sports timing with groundbreaking innovations and set the standard ever since. Our products and platforms are used at professional events like the Olympics and INDYCAR to countless local events around the corner.
More info
If you have any questions or need High Resolution images, please contact Krijn Snuif (Marketing Manager at MYLAPS), krijn.snuif@mylaps.com or +31 (0)6 29 72 18 59.