New Funding Enables Kitzuma Cycling Logistics to Continue Rapid Growth
August 4, 2021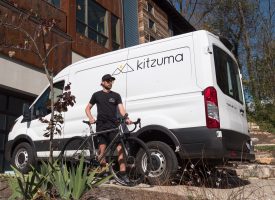 After eight months of steady growth/proven service, Kitzuma now has 15 B2C bike clients; will use capital to improve tech, grow fleet, add new hires, broaden user base
Asheville, North Carolina (August 4, 2021) — Less than a year ago Kitzuma Cycling Logistics disrupted the bike industry with their ready-to-ride, door-to-door, bike-shipping service; now eight months in, with 15 major bike brands as clients, they've just successfully closed their first round of funding. They'll use this fresh influx of capital to deliver their white-glove customer experience to even more clients and consumers across the country.
"We are really excited about what Kitzuma has been able to accomplish in eight short months," says Taylor Essick, CEO of Kitzuma. "After being self-funded for nearly a year, this outside investment will allow us to remain aggressive in our growth trajectory on the B2B side and also allow us to start laying the groundwork for our consumer shipping services as well."
The initial round of funding closed significantly ahead of schedule and proved that investors see a need for Kitzuma Cycling Logistic's new paradigm of first-rate, ready-to-ride bike shipping. But equally important to the capital itself, the Kitzuma team was also determined to find the right people behind it.
"I can't say enough great things about our investors," Essick adds. "In addition to believing enough in Kitzuma to invest, they are passionate cyclists and bring a wealth of knowledge and experience across all sectors of the business world, which will be a critical asset as we continue to grow and scale."
Casey Watkins, Co-Founder of Symmetry Financial Group – and an enthusiastic Enduro rider – is one of those investors. "No investment is ever guaranteed, but investing in Kitzuma, whose founders have over 20 years of experience and have developed a purpose-built logistics platform, is hard to pass up," he says.
Stay tuned for more information about Kitzuma's imminent consumer-shipping service – individual consumers will be able to ship bikes through Kitzuma to private buyers, events and races, travel destinations, etc. – which they expect to launch later in Q3.
For more information please email Kitzuma at info@kitzuma.com or call at 855-KITZUMA.
For MEDIA inquiries please contact SIMBOL Communications, their Agency of Record: nic@simbolpr.com
About Kitzuma
We pick up bikes at the source and deliver them over-the-road directly to the consumer, whether you're a brand, individual, local cycling club or team, or retailer. We can even provide logistical support for your demo event, including basic mechanic services if requested. Our specially equipped vans allow each bike to be individually racked and covered. We guarantee our customer's bikes will arrive in perfect condition every time, on schedule, and immediately ready to ride! Learn more about us at https://www.kitzuma.com