MYLAPS welcomes John Hovius
September 8, 2023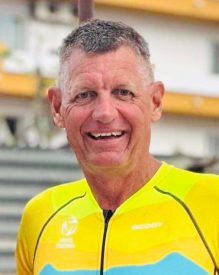 HAARLEM (September, 2023) /ENDURANCE SPORTSWIRE/ – MYLAPS Sports Technology is pleased to announce that John Hovius joined the company on 1 September. John will be part of the MYLAPS team to add knowledge and help us to continually raise the level of our timing and online services for sports events. Next to that he will support our timing partners across the globe with his experience.
John is very experienced within the sports timing industry. Born in Australia, he spent the last 16 years in the USA timing major races, around the globe. After graduating as an Aeronautical Engineer, John dedicated 20 years to the Australian Air Force as a Test Engineer. MYLAPS Event Timing is MYLAPS' event timing division, offering timekeeping and additional services to races in the Netherlands, like Amsterdam and Rotterdam Marathon, and Ironman races across Europe.
Highest level in triathlon
John loved to do many sports, including BMX, Jet-Skiing, Cycling, Moto-X, Go-Karting and Power Boats. He reached the highest level in Triathlon before turning to coaching where he produced multiple World Champions and Olympians. He now treats triathlon as a hobby and races for pure fun, still enjoying the competition.
Industry leading technology
'Sport has always been a major aspect of my life', says John Hovius. 'I'm excited to start at MYLAPS, offering industry-leading technology to event organizers, athletes, and fans. I can't wait to work together with the passionate team and I look forward to explore the European mass sports industry.'
About MYLAPS Sports Technology
At MYLAPS we support racers, athletes, and events in creating their ultimate sports experience. Every year we capture the performance of over 20 million people all over the world. We develop accurate, reliable, and easy-to-use technology to turn data into insights, progress, and fun. Founded in 1982, we have revolutionized the world of sports timing with groundbreaking innovations and set the standard ever since. Our products and platforms are used at professional events like the Olympics and INDYCAR to countless local events around the corner.
More info
If you have any questions or need High Resolution images, please contact Krijn Snuif (Marketing Manager at MYLAPS), krijn.snuif@mylaps.com or +31 (0)6 29 72 18 59.