Motiv Group names John Smith SVP of Strategy and Partnerships
November 17, 2022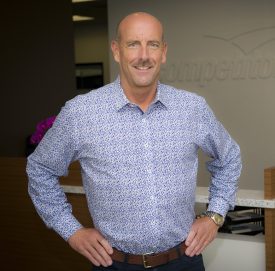 Industry Leader to Drive Event Growth and Partnership Strategy for Portfolio of Iconic Events
SAN DIEGO – November 17, 2022 /ENDURANCE SPORTSWIRE/ – One of the premier race production companies in the United States, Motiv Group today announced that running industry veteran, John Smith, has joined the organization as Senior Vice President of Strategy and Partnerships.
Motiv owns and operates 12 iconic events including the Long Beach Marathon, Shamrock Run Portland, Surf City Marathon, Philadelphia Love Run Half Marathon and Golden Gate Half Marathon in San Francisco to name a few. Smith will help drive new partnerships while expanding the organization's event platform and overall offerings.
"Coming out of the pandemic, there are thousands of new runners participating in our sport and I am energized about the opportunity for our events and partners to create unique experiences for these runners," said Smith. "This is an exciting time for the industry and Motiv is a company poised for significant growth. Running was one of the few sports people were able to participate in during the pandemic and has emerged as a clear factor in supporting positive physical and mental health."
In his career spanning more than three decades in the industry, Smith's reputation is renowned among endurance marketing leaders. He has worked with dozens of brands and businesses of all sizes, including Toyota, Humana, Garmin, Brooks, Cliff Bar and Gatorade, utilizing event partnerships to connect them with passionate athletes.
Previously Smith served as Vice-President of Partnerships for Gannett Media's event portfolio Ventures Endurance. During the pandemic, he launched a number of successful virtual runs raising over $1 million for St. Jude Children's Research Hospital. He was SVP at Competitor Group, Inc. (CGI) and helped them grow into one of the world's biggest media & event companies to inspire a healthy, active lifestyle under one platform. Post Ironman's acquisition of CGI in 2017, Smith was responsible for driving partnerships for all of Ironman Group's event properties in running, triathlon and mountain biking.
"Running has proven to be a versatile, dependable and recession-proof activity and I couldn't be more excited to launch new platforms like the Golden State Run Series and expand our portfolio over the next 4 – 6 years," added Smith.
Smith is an active Runner and Cyclist and lives in Cardiff, CA. For more information about Motiv and their event properties, visit MotivGroup.com. Further information about the Golden State Run Series is available online at GoldenStateRunSeries.com.
2023 Golden State Run Series Event Schedule
February 5 – Surf City Marathon and Half Marathon
May 13 – Santa Barbara Wine Country Half Marathon
July 16 – Napa to Sonoma Wine Country Half Marathon
September 17 – Surf City 10
October 15 – Long Beach Marathon & Half Marathon
November 5 – Golden Gate Half Marathon
November 5 – Malibu Half Marathon
About Motiv
We are Motiv, we own and operate iconic – community driven – legacy events across North America. Our events are well established community traditions and offer best in class experiences including the Napa to Sonoma Wine Country Half Marathon & Rose 5k, Surf City Marathon & Half Marathon, Portland Shamrock Run and the Long Beach Marathon to name a few. As a leader in the mass participatory endurance space, our unique platform is built on the premise that consumers seek out experiences and brands seek out opportunities to connect with consumers at their point of passion – 365 days a year! Learn more at MotivGroup.com.
Download
Media Contact
Dan Cruz, 619.925.7671
# # #